AUGMENTED Reality is among the best, if not the best, and the most exciting technologies around. Most people saw it first in Sci-Fi movies and thought it was just a thing for the movies.
Personally, I was sure that Augmented Reality Apps would find their way into real life, and they have seamlessly done so. From its inception, technology has always pushed the limits of what can be and continues to be a vital tool for the future.
In the Hollywood movies, they try to depict how the world will be 20-30 years from now. All this looks like a pipe dream, but it is happening in reality.
Augmented Reality Apps have found their way into almost every aspect of society as it stands. A biology teacher can now illustrate the human body better, or better yet, the human nervous system, better by using Augmented Reality Apps.
Your child can experience better gaming through these Apps, and you can see the world with different eyes through this breathtaking technology.
Imagine seeing streets avenues in 3D while driving, well, at a stop sign apparently, and seeing the distance it takes to get to your destination and the route mapped out precisely.
Augmented Reality Apps are the future, and the future is here. Let us have a look at some of the best Augmented Reality Apps currently on the market.
Top 10 Best Augmented Reality Apps 2018
1.

MondlyAR
Learning a new language nowadays has never been more accessible. In the past, you needed a few books, dictionaries and maybe even a tutor. Learning a new language was a tedious long-term affair and unless you merged yourself in the actual culture of the specific language you wanted to learn, the chances of becoming fluent were pretty dim.
Today you have the internet at your disposal, and along with it, you have numerous tools and apps that are specially designed to help you learn a new language.
But the language learning sector recently got yet another update. MondlyAR – the first AR language learning app to use speech recognition, tries to supplement your learning experience with something that was really missing: interaction.
The whole experience revolves around a virtual character named Mondly, which basically substitutes a tutor, or teacher if you will. It will show you objects, animals, and even planets right there in your living room, making your whole language learning experience very futuristic.
Besides all the AR generated components to help you learn words and phrases, MondlyAR also provides a high level of direct conversation based interaction, between you and your virtual learning assistant with the help of speech recognition technology.
Overall, MondlyAR is a great augmented reality experience. Having an AI tutor spawn a life-sized lion in your room and teaching you how to pronounce it in German will not only help you retain the information easier, but it will also make it a lot more fun and exciting.
At the moment MondlyAR is available on Google Play and will be launched in the App store by the end of March 2018. It currently has seven available languages (French, Spanish, Italian, Portuguese, German, American and British English) with more to updates to come.
2.

Ingress

This App is good news to every gamer in the world. It proves that there is more to the world than what you usually see; if anything, this App is the definition of seeing the world through different eyes.


The Ingress Augmented Reality App from Google turns your real life surrounding into capturable objectives in-game portals. Landmarks and points of interest are captured on your phone after it uses GPS technology access your location and gives you a virtual alternative to reality.
However, this virtual world is merely a practical display of what already exists.
In every game that I have ever played, there is always a way to add more to your health or life bar. Now imagine being able to collect these health bars or XM (Exotic Matter) as Ingress calls it in real life.
This game has two factions, the Enlightened, who use XM to advance human revolution, and the Resistance, who do not care about the exotic matter.
To play this game, you have to be on either side. The quests involve capturing the flag, neutralizing, discovering, attacking and discerning the other's territory. Your role as a member of either faction is to use your inventory to advance your faction's control.
Some time ago, gamers all around the world thought online gaming was the best thing to happen to them. This goal was achieved using headphones to interact with opponents or teammates who are far from them, but the two or three players are connected to the game online.
If you think that is the best way to game, wait until you try out the in-game chat on Ingress. You will not be sitting down sipping soda and eating junk food while you experience the joy of vanquishing your enemies in the game with your friend, who may be miles away, doing the same.
Instead, you will be taking over new territory while on the move breathing fresh air and exercising your legs as well. If you are looking for a game that will take you out of the house and help you experience reality in a practical way, the Ingress Augmented Reality App from Google is what you need.
3.

AR Flashcards App

Learning has unquestionably taken a different turn since the technology was incorporated into the education sector. I remember my days as a young kid, my early learning days, spelling was a major hurdle for me. Even now, there are pupils all across the world that uses old methods such as charts to learn letters and spelling.

The good news about the AR Flashcards App is that you do not need to wait until your child goes to school for them to start learning. Additionally, you do not need to buy papers and charts to aid them in their schooling at home.

Having papers in your house can make it look messy, your child may even stain it, and the whole process of finding a proper chart and these academic documents is strenuous.

I bet you notice the glow in your little one's eyes when you get them a technology related present, something they can interact. Augmented Reality Flashcards add learning to the fun; your child will know what they need to know before they go to school.

AR Flashcards work by pointing your Android or iOS device at the printed flashcards. When you do that, a 3D animal pops up on the screen, now tap the animal and you will hear the animal name and the letter.

This proves to be a fun way to learn as kids tend to remember interactions more than they would if they are just told something about an object or an animal. If a child sees it, they will remember it better than when they hear about it.

The AR Flashcards have 26 animals to help kids in preschool and toddlers as well to learn. Augmented Reality superimposes computer-generated technology over a live view of the world, undoubtedly the best way to help your child learn.
4.

Spacecraft 3D

I bet you have heard about Curiosity; the six-wheeled little spacecraft NASA is using to explore Mars. Have you ever been a wee bit curious about how this machine works or looks like up-close?

Tell you what, you do not need to research it online, you can view Curiosity in 3D using the Spacecraft 3D Augmented Reality App released by NASA. Even better, more models will be added in the future. All you have to do is print out a few markers then aim your device camera at them, and you will be able to see the 3D model.
This Augmented Reality App not only helps you learn more about the various spacecraft used by NASA for space exploration but also helps you interact with them as well.
This App is a way to explore the earth and solar system in general from the comfort of your mobile device in a captivating manner. Imagine being able to view the Milky Way and asteroids in an interactive way, it would make you feel like an astronaut, wouldn't it? I will not be surprised if kids who see and use this App decide to switch careers to being an astronaut.
The App only take up 46 Megabytes of space and requires your phone to use the 2.2 version of Android or any above that and most importantly, to have a good camera.
The current version is 3.0 that recently included a manual mode to explore models without an Augmented Reality target image. With Spacecraft 3D, you will not only be able to view the universe via robotic explorers only; if you are interested in learning about their engineering feats, this App will help you in that sense as well. Say hello to the future of space exploration, right from your mobile device.
5.

MYBRANA 3D

It is very hard to choose one Augmented Reality App as your favorite, but when I used Mybrana 3D, that decision was the easiest I ever make.

Social networks now seem overrated to me as I can create my version of reality and capture what happens in the real world in real time. For the first time, fiction has somehow managed to surpass reality, and it has been made possible by this amazing App. After taking photos or videos, sometimes you edit them before sharing them to add a creative touch to them.

Mybrana 3D will turn a place that has been used to take photos multiple times into a whole new experience; this is the selfie revolution you have been waiting.

You have the ability to add animated characters to your photos and videos with Mybrana 3D. The images are projected with unbelievable precision, almost as if they were there when you took the picture or video.

You can add anything from miniature cars to pumpkins and even animals such as penguins or an octopus's tentacles. As a creative, this is the type of Augmented Reality App that gets your creative juices or overdrive.

These features integrate impeccably with the image and enable real-time sharing of the videos or photos. This App adds a touch of humor and life to what would look like an annoying picture mainly because it is normal.

With all the technological advancements going on and wonderful inventions in the market, reality surely is a boring world for an average person let alone a creative one. However, you need a steady hand with this App; moreover, it uses your battery fast so be sure to have enough charge for running the App. Also, it is free, grab your today and experience reality in a new way.
6.

Aurasma

Earlier on, we discussed an App that aids toddlers in learning; now we look at one that even adults can use. Aurasma Augmented Reality App is a new way to interact with and see the world.

As a matter of fact, it is among the very few Apps that allow you to create and share your Augmented Reality. Animations are among the leading genres of the film industry.

Social media takes to animations to create funny videos just to make people's days. I am among the people who wonder how these amazing videos are made.

With the Aurasma Augmented App, you can not only animate, but you can also use interactive digital content to bring images, physical locations and objects to life.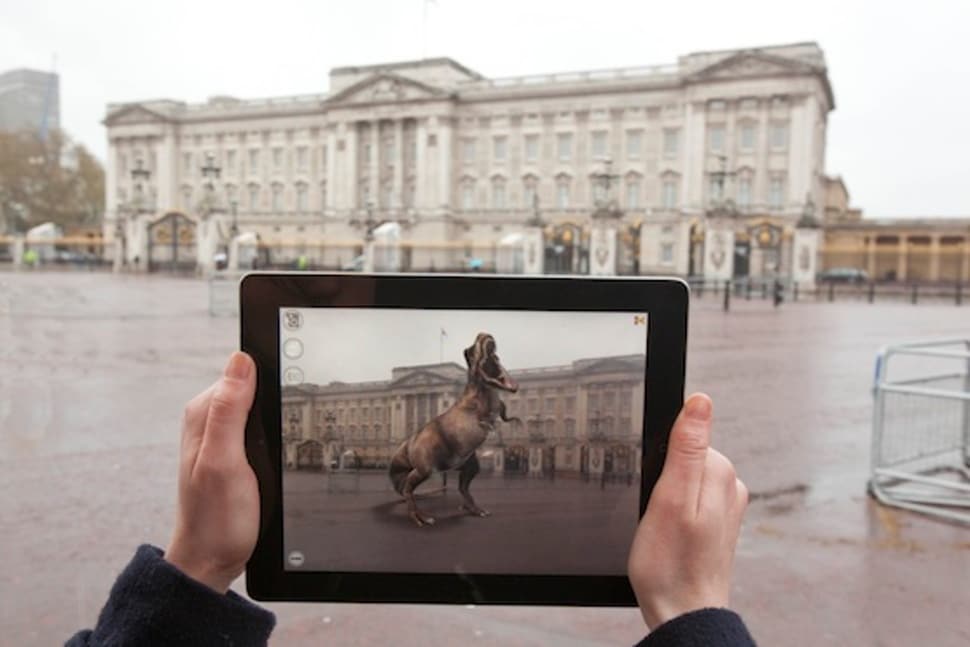 As an animation lover, this is the perfect App for you as it allows you to switch from reality to an animated world in an instant. Aurasma is one of those Apps that will get you hooked like nuts to a squirrel.
The App is also embedded in the real world as it uses product packaging, books magazines, posters, books, and the likes to share experiences. It does this by putting Auras, in the form of a logo, 'A', in them, if you have the App, all you have to do is scan the A using the Apps viewfinder to unlock these brilliant experiences.
You can create your personal Auras using the simple step-by-step creation wizard in the App and share them with your friends and Aurasma users.
Imagine taking a video of you strolling down the street one day, everything looking normal, and then you use the App to add a 3D dinosaur on the streets. Yes, you can do that with the Aurasma Augmented Reality App.
These videos and photos of you are your auras, what more is there to say, create your aura today.
7.

HomeSpotter

There are two things almost everybody hates in this world; traffic and house hunting. The process of house hunting is a long one despite recent innovations in real estate such as speedy agent availability and online sites that deal with finding homes for you.

In spite of these efforts, getting the desired home requires constant and good communication between the realtor and the client.

Communication is everything; an agent will call you and keep you updated on new houses, but what about when you need to view them and the agent is unavailable? Or you need some details and do not want to give out your email address yet, the cautiousness is understandable.


The ideal solution for you is the HomeSpotter App. HomeSpotter makes collaboration between you and your agent better, fast, and fun.
Clients and agents were used to using hectic methods to communicate such as emails and fax to send and receive documents concerning the house they intend to buy or lease.
With HomeSpotter, you can view photos directly in the message without having to open the attached files in another window. The text message interface is easy to use thus enabling efficient communication between the users.
Home searching was a personal thing not so long ago, by this I mean, unless you had whoever you wanted to share the home with you while viewing, they would have to see it when you have already bought or leased it.
However, with HomeSpotter, you can share not only photos as slideshows and links, but you can enable multiple conversations between you and your family or friends and the agent.
Moreover, you can enable communication between you and two or more agents so as to get full access to agent-only listing information.
HomeSpotter allows you to share, comment, save, and chat with everybody involved in your quest to find a home; this is a significant step towards modernizing house hunting. Don't be left behind, download this App for free.
8.

Anatomy 4D

Biologists and biology tutors must have been buzzing with excitement when this App hit the market, and why would they not when you can access and visualize one of the most complex systems, human anatomy.

Not long ago, and even now in some places, tutors use charts to explain human anatomy to eager students. As complicated as it is, students understand it and go on to become the best doctors and surgeons in the world.

Anatomy 4D shows just how Augmented Reality is embedded in every aspect of society, especially the imperative ones such as medicine.

On the main menu of the App, there is a 'Target Library' section; print your desired images into it. After doing that, place the printed image on a flat surface then scan it with your device, now all that is left is for you to sit back and watch as an amazing 4D experience comes to life.

This App is widely used by medical practitioners almost twice as much as teachers and students use it.

Even after learning about all there is to learn about human anatomy, you will be surprised by a thing or two considering the fact that people are different. That is why this App is vital to doctors just as much as it is to teachers and students.

A fun way to learn ensures you clearly remember as it is fun and very inspiring. This is the type of experience that the Anatomy 4D Augmented Reality App gives you.

Imagine being able to study both the female and male anatomy simultaneously with added features such as zooming in on organs and other parts of the body for precise detail.

All this is possible with this amazing Augmented Reality App. Moreover, unlike the days of old when you had one chart highlighting different organ systems, with Anatomy 4D you can focus on a single organ system such as the respiratory or the skeletal system and revert to the whole organ system at will.
9.

Theodolite

Now this is the perfect Augmented Reality App for hiking, biking, boating, sightseeing, military personnel, rescue workers, geologists, architects, and surveyors just to say the least.

Imagine an App that can give you real-time information about your altitude, bearing, range, position, and inclination on your phones live camera, sort of like an electronic viewfinder.

This App has changed the approach to things such as surveying and architecture as well. As an engineer, you do not need to go through the tedious process of making a calculation on inclination with this App.

Likewise, the surveyor doesn't need to tie strings to poles at all ends of a piece of land to determine the bearing. This App makes tasks such as these seem like a walk in the park.

For ethical and security purposes, most people will double check the Apps result with traditional methods but it its accuracy has been proven to be always on point.

The uses for this App just keep going and going, but one thing remains certain, it is the best navigation App there is on the market.
Imagine, as a golfer, having the ability to view your current position in a built-in map with live markers and seeing the whole terrain as it is, even beyond what your eyes may see.
Then imagine being able to share those markers and navigation calculator points with your friends; Theodolite surely does provide the ultimate navigation experience.
This App is also applicable to the typical user who just wants to take photos or videos.
With the Theodolite Augmented Reality App, you can take geo-tagged camera images, videos, and screenshots; not to mention the ability to save geographical data and notes made on photos and videos for later use.
I fell in love with this App after realizing it was connected to locators such as the U.S National Grid, MGRS, UTM, and the British/Irish National Grids. The App is free and can be used anywhere.
10.

Car Finder Augmented Reality App

We have all been here before, haven't we? When you find yourself so preoccupied or late for an important meeting or work and you just park your car anywhere you see parking space, only to have trouble remembering where you parked your car after the meeting.

A journalist is just the person in the profession that requires this type of hurry. If you wait to park in a place you will remember, you may risk losing the story.

It is one of the worst feelings to have especially if the meeting or work did not go as expected. Well, not to worry anymore, Car Finder is an Augmented Reality App that helps you with that issue and more.

This Augmented Reality App not only shows you where your car is but it can also help you track your car from home with its GPS Auto Track Module.

Additionally, it can give you directions to the nearest car park, so you do not have to leave your car in the middle of nowhere.

What makes it such an excellent App when it comes to finding you car is the fact that it automatically saves the location of your car the moment you turn it off.

After you are done with whatever you were doing, if you need to find your car the App not only gives you walking but driving directions as well towards your car.

With this Augmented Reality App, you will also be able to manage up to 3 different vehicles.

Imagine a friend of yours or your loved one gets their car stolen and their phone was inside the vehicle. You can track that vehicle for them and prevent it from disappearing for good.

What if you are meeting someone and want to meet them in your car, or are travelling and need to go with other people in your car; you can share your location with them and they will be able to find you without you having to move or start looking for landmarks and waving or shouting like a mad man when you can see them but they can't.

So besides the stress got by running around trying to find your car, turns out this App prevents you from embarrassment too.
11.

Continental Augmented Reality Head-up display

For the finale, we look at the App that will make your driving skills rise exponentially, reduce incidents where you get speed tickets and create a game-like experience while you are driving.

Imagine having the ability to access vital traffic information such as the speed limit without having to look up, right or left for the sign. All the information you need is displayed on your windscreen, so all you have to do is look forward and drive.

The Continental Augmented Reality Head-up display App moves essential information concerning the road and driving to the drivers' line of sight.

At a distance of 7.5 meters from the driver, this App utilizes around 130 cm in width and 60 cm in length to insert full-color graphics into the real road.

This display is made possible by digital micro-mirror device technology or DMD that is also used in digital cinema projectors.
An App that can give you a view of the traffic conditions in front of your vehicle using virtual augmentations is just about what most drivers need to reduce not only small and stupid but major accidents as well.
Have you ever seen a car in front of you that you like but cannot get close enough or just can't see its name on the back?
Continental Augmented Reality Head-up display enables you to detect the vehicle in front of you as well as giving you adaptive cruise control when distance controls are connected.
This App guarantees more economical, safer and comfortable driving experiences for all drivers. Moreover, it is fun; who wouldn't like to have 3D rendering of the road on their windshield while they are driving? While it may seem like a distraction, this App is the closest thing to guaranteeing safe driving there is.
Best Augmented Reality Lifestyle Apps
Augmented reality doesn't relegate itself merely to gaming. AR has really proven its worth by making our daily routines more efficient and less mundane. In fact, a bevy of design brands have curated apps to help the average and not-so-average Joes and Janes transform their interiors in a matter of seconds. A sweeping lot of augmented reality apps in the design niche allow users to reimagine their interiors with new furnishings or even completely remodel the aesthetic and architectural design.
Originally we heard rumblings about such a forward-thinking app in the designer and architect industry space. It hadn't yet been conceptualized as something non-professionals could avail themselves of. And perhaps it wasn't originally perceived as the sort of tool regular people SHOULD avail themselves of.
Well, fast forward to the present and we've come to realize, "Boy, was that thinking wrong."
1.

Decolabs AR

Decolabs has fashioned our favorite kind of augmented reality app: a free one. Compatible with your smartphone, the app allows you to "explore, configure, and review" your space with your very own curated selection of furnishings. You simply aim at the space you want to redecorate, superimpose the object or objects, and evaluate if the result is the look you are after.
Unlike some apps that play liberally with the dimensions of your space and furnishings, Decolabs' markers more accurately determine how much wiggle room you have to play with. Here's how it works. First, you print the markers from the site. Then you place the marks on the floor where you want to place your new furniture. The markers in turn "anchor" the furniture in the space.
Bottom line: the app is straightforward and fluid. You won't be scratching your head at how to navigate through this app's set of functions. And while you do get what you pay for, it isn't the only free design app on the market ready to transform your interior. So we expect future iterations of the app to take on board stronger, more intuitive functions.
2.

iStaging

Not to be outdone by Decolabs' free app, iStaging launched a similar app for smartphones and connected devices. Here's the interesting thing about the award-winning iStaging team. They've bridged the universes of virtual reality and augmented reality in order to bring the strongest possible choices together in one app. The Decolabs app uses markers to pin your furnishings into your space. iStaging prides itself on using markerless AR to render your proposed furnishings at scale.

Here's another intuitive bit of functionality. The app has wall and ceiling detection. The fine folks at iStaging are banking on the possibility that you'll want to pull from an even larger catalog of ceiling lamps, fans, paintings, and mirrors to envision your living space beyond just standard floor furnishings. And that larger catalog boasts more than 10,000 such curated products ripe for placement in your bedroom or living room.

But what should you do if you are tapped out of design ideas? iStaging couples your AR experience with a collaborative VR experience. You can equally see your interior through the eyes of iStaging's select group of designers. Putting on your VR glasses and enabling this option gives you the opportunity to pull inspiration from the portfolios and lookbooks of several reputable designers.

The app is an ever-evolving work of art. It's even customized for Tango-enabled devices. Is it heavy on options? Yes. But that's possibly what you need when redesigning your home: as many options as you can get.
3.

Google Translate

Google and its team of future-driven engineers have been unabashed about their fondness of marrying the latest tech with the routine of our everyday lives. Maybe you knew this already. But Google Translate is AR-enabled.

We don't typically reference the translation app when thinking about AR. But Google was one of the very first "brands" to put AR in the hands of the little people.

How does it work? Aim your camera phone at the text you want to be translated and the app translates it in real-time into your image display. Rather simple and unassuming sort of functionality. But when it comes to efficiency, no one really wants to type out a huge swathe of foreign and indiscernible text in hopes of translating it. The app cuts the wait time down to size by giving you your translation right before your eyes. Best of all it's free.
4.

Roar Augmented Reality

Roar is just the interesting sort of marriage that apps like Scan wish they were. Shopping just got easier by virtue of your camera phone. Imagine an app that allows you to take pictures of everything from food to movie posters and it, in turn, sources everything from prices, reviews, bookings and even ticket purchase for you in real time. This is what separates Roar from the vast array of shopping friendly apps that purport to give you full disclosure on products and purchases in the blink of an eye.

Roar's claim to fame is that there seems to be nothing that you can't scan or photograph (as long as it is for sale) and find out everything from nutritional information to screening times. Why is this app so powerful? We easily forget that it's augmented reality. It doesn't puff out its chest like other AR apps do. Instead, it relies on its ever-growing stack of functions and its extreme accessibility to do all its heavy lifting for it. Just the idea of walking past a restaurant and snapping a photo of food to get its price, reviews, details or even restaurant reservations is a big sell for the app.

Compatible with both Android and iPhone, Roar is in a constant state of growth and development. Here's the app you get when you don't feel like Google searching or booking online through conventional means. Bottom line: extremely practical and intuitive. Possibly one of the best multi purpose apps expressly designed to fit your day to day lifestyle needs.
Best Augmented Realiy Apps Questions and Answers
.

Best Augmented Reality Apps – Conclusion

Technology appears to be in every aspect of people's lives recently. It is very apparent that it will continue to be a bigger part of people's lives in years to come as well.

With this in mind, the best thing to do is adapt to it and embrace these changes it provides that add more to life than what we see. Augmented Reality is at the forefront of transforming the world into a better, magical place.

Augmented Reality Apps are free, so you have no excuse of not partaking in this constant evolution. Get some of these Apps today to enjoy a different version of reality.