Sharing your location with others was never easier than today. We can use our mobile devices and their first-party solutions to share our location, we can use most of the social networks for the purpose of letting others know where we are, or we can just use one of the specialized apps.
Now, using social networks for sharing your location isn't always private or safe. Everyone on your friend's list can know where you are, and that's not always something you want unless you specifically want to let everyone one in the world know your location.
So, if you ask us, the best way to use location-sharing feature is via first and third-party apps. There you can choose which people you'll share your location with, for how long, and for what purpose. Also, you can turn the feature off at any given moment with just a few taps. Since there are more and more apps offering the location-sharing feature every day, we choose the best and feature them here. Let's find out which location-sharing apps are the best together.
Do note that all of the mentioned apps are free to download and use. Some of them offer premium subscriptions, but they won't force you into going premium. All of them can be used completely free, although some won't give you access to all features until you decide to subscribe.
Best Location Sharing Applications
Google Maps

Google updated its Maps app, adding a location-sharing feature. Now, the feature isn't new to the Google Maps app – if you remember back in the day, the app had a neat function called Latitude. With it, you could share your location with other people, but in a series of inexplicable events, Google removed the option and moved all location sharing features to (now mostly dead) its social network, Google+.
Fortunately, Google came to its senses and brought back the feature to the app where it belongs. The feature is quite easy to find (it's placed in the main menu), it gives you a couple of options (how long you want to share your location, with whom) and although it doesn't offer plenty of customization options, it's great to have it there, since Google Maps can be found on practically every Android device, as well as on most iOS devices, so you don't have to find an app to use with your friends because chances are that you all have Google Maps installed on your mobile devices.
Pros
Easy To Use
Practically All Android (And Most iOS) Users Have It Installed
Cons
Google shares your personal information throughout their services and with advertisers
Not Many Additional Features
Can't Make Different Friend Circles
Have To Add Contacts Every Time You Want To Share Your Location
Foursquare Swarm
Foursquare started it all, with its innovative app that saw the light of day way back in 2010 (seven years is like a century in the mobile world). The app was an instant hit, everyone wanted to "check-in" and Foursquare quickly became one of the most popular mobile apps, both on Android and on the iOS.
Foursquare's popularity saw a massive drop, but the company made a comeback with a new app called Swarm. Instead of letting you find new places, the primary function of Swarm is location-sharing. You can share your location with your Foursquare/Swarm contacts, which can be especially handy for group vacations, or when visiting music festivals (especially when visiting music festivals). Of course, the social side of the app may be a too much for some users, but don't worry, there are plenty more location-sharing apps out there.
Pros
Cool Design
Easy To Use
Familiar User Interface (For Foursquare Users)
Integrates With Your Social Network Accounts, As Well As With Your Messaging App
Turn Off Your Location Sharing With Just One Tap
Perfect App For People Who Always Hang Out on Social Networks
Cons
Flawed And Unfinished Foursquare Integration
Limited User Base
Not For Users Who Don't Use Social Networks
Turtler

Turtler is the only app on this list that's still in development, but we had to include it because the app will feature some pretty cool options once it goes live.
For instance, Turtler will offer uncompromising data encryption and privacy with AES 256-bit encryption. In other words, it will be practically impossible for someone to hack your account or access your location without your permission. Only your friends and family will be allowed to see your location, no one else unless you specifically choose to share more publicly.
Turtler will offer private and public location sharing options. While the private option is the feature most of us will use, the public option will allow blog owners to share their location with their readers. For instance, if they want to let their readers know where they will be, for a meet and greet purposes at a special event. Also, Turtler will allow for users to check on your location without having the app installed, by sending them a secure link that will lead them to the Turtler website. Since Turtler uses AES 256-bit encryption you can be sure that the link will stay secure.
And the best thing about Turtler is the "Shell" device, allowing location sharing without having a smartphone with you. The device supports 3G, 2-way voice calling and GPS tracking, and is a great tool for large companies to use location sharing of their employees with customers or for families to use with their children. Overall, Turtler looks very promising, and we can't wait for the app to get released.
Glympse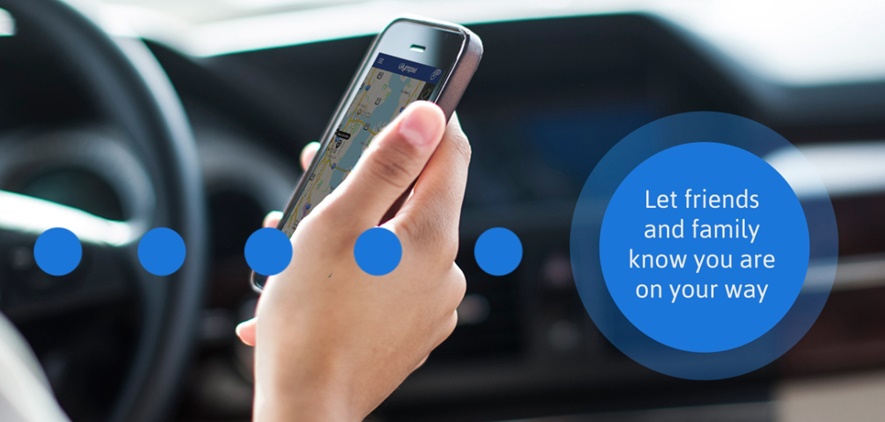 Glympse in another location-sharing app out there. The good sides of Glympse is that it offers plenty of customization options (you can select who can see your location, for how long, whether your location will be followed in real-time or will the app make "shots" of your location every couple of minutes, and more), it has a good-looking UI, and it's quite easy to use.
Some of the downsides are the fact that the app is a battery hog, that it can freeze from time to time, and that your location can get inaccurate (probably another bug). The good thing is that your friends can know where you are without installing Glympse; you can just send them a secure link and they can use any browser to find out where are you.
Pros
Ok To Use
UI Uses Material Design
Your Friends Don't Have To Install The App In Order To Check Out Your Location
Social Network Integration
Cons
Menus Can Be Overstuffed and Feel Unintuitive
UI Could Use Some Upgrades
Battery Hog
The App Can Crash From Time To Time
Life 360

Life 360 (now known as Family Locator) has a great idea. The app lets you build different circles (close friends, family, your partner, work colleagues) and then share your location with one or more circles. This is awesome because the app lets you choose which people to share your location with (you don't have to enter contacts every time), and you can message your circles from within the app as well.
Life 360 has usual location sharing features like setting a timer for how long you want your location to be shared, and it is a great choice for those seeking a location-sharing app that allows them to share their location both with close family and friends. Really, circles option is the app's strongest side.Now, Life 360 Family Locator is available in two flavors. The free version offers some features such as check-ins, locations, and messaging. On the other hand, we have the premium version that comes with all features but costs $5 per month ($50 per year), which is too expensive. Users have lots of cool – and free – location sharing apps, and $50 per year subscription is just too much.
Pros
Easy To Use
Lots Of Features
Precise Location Tracking
Circles Feature Is Excellent
Cons
The App Is A Battery Hog
The App Is Known For Being Unstable
Premium Subscription Is A Bit Expensive
Yik Yak


Yik Yak isn't your everyday location-sharing app. It is more of a location-based social network. With Yik Yak you can choose to share your location anonymously and to track other users of the app that are nearby. Other users – as well as you – can post comments, and if they are in a ten-mile radius from you, you can read them. Now, comments can give you useful info; you can find out about nearby fast food joints, or about the best coffee you can drink nearby.
The problem is that, in most cases, comments are just random ramblings from random people. They often contain threats and swears. Basically, Yik Yak is like a 4Chan of location sharing. You can stumble upon really cool stuff, but in the most cases, users will just post silly comments that aren't informative or helpful.
Neat UI, cool feature, and the option to stay anonymous are Yik Yak's best features. If you want to stay anonymous and glimpse at other user's location along with their posts, Yik Yak is the app for you. Just don't expect too much from the app. Yik Yak can be fun to use for a while, but before long you'll probably as yourself "why did I install this app in the first place?"
Pros
Cool Idea
The App Gives You The Option To Stay Anonymous
Extremely Simple To Use
Comments Can Be Hilarious
You Can Find Useful Info
Cons
Comments Are Awful In Most Cases
The App Becomes Tedious And Boring To Use Very Fast
It Serves As An Interesting Proof Of Concept, But Not Much More
UI Is Basic At Best
Find My Friends
Find My Friends is another app third-party location sharing app and it shouldn't be confused with Apple's app with the same name. Find My Friends is available for Android and it offers a solid number of features, an average-looking UI, and two versions – free and premium one.
Find My Friends is an excellent app to use for long trips, or for journeys outside your country. The app enables you to quickly share your location, to select people you want to share location with, and to select for how long you want your location to be visible to others. One nice addition to the app is the fact that it shows you nearby police stations, hospitals, and other POIs (points of interest) that can be useful when traveling abroad.
The app can be downloaded for free, and with the free version, you have access to most features. New users can try the premium version for 30 days before deciding if the app is worth the purchase. Premium version costs $5 per month (or $50 per year) and it offers an expanded location history (cool for trips abroad), an unlimited number of check-in locations, roadside assistance and support for simple, feature phones (cellphones without smartphone features). Although the price is a bit too high, the app is handy, especially if you often travel.
Pros
Simple To Use
Free Version Offers Lots Of Features
The App Won't Drain Your Battery As Fast As Other Location-Sharing Apps
Great For Users Who Often Travel Abroad
The App Shows Lots Of Helpful POIs (Points of Interest)
Cons
Design Could Have Been Better
The App Looks A Bit Dated
Premium Version Is Too Expensive
Download: Android
For those who are looking for a real time location sharing app that lets you meet up with all of your friends and family while still maintaining control over who you share with and when, we may have the app for you. Karavan is a new location sharing app that puts power and privacy back in the hands of the user.
Karavan
Karavan is a real-time 'group map' app that is currently free in the App Store. Karavan allows users to make secure groups that require either an invite or the leader's selected password to join a group. Once you're in a group (or in a "Karavan" as they call it), you can see everyone in your Karavan on the map in real-time.
Once in the Karavan app, you can drop pins for the rest of the group to see. Also within the app, you can tap a button to launch Apple Maps or Google Maps to automatically give you the directions to your friends or their pins.
Karavan is made for anyone who's ever tried to meet up with friends or family at a crowded music festival, busy bar, amusement park, or even a new restaurant. Karavan makes meeting up and staying together seamless without using up your phone's data plan and battery life (thanks to their sophisticated algorithm).
Putting the user back in control of their privacy is what sets Karavan apart from other location sharing apps. You can easily shift from one group of friends to another from within the app. Or if you want to stop sharing your location with your groups completely, simply swipe the app closed. The makers of Karavan are adamant about user privacy and believe the power to control when you share your location should be entirely in the user's hands.
Pros
Simple To Use
Free Version Offers Lots Of Features
Great for Festivals and Parks
Cons
Everybody needs to use the same app
Download: iOS
Know Other Great Location Sharing Apps?
Okay, that was our best location sharing apps list. We tried to include all the best apps but, as is frequently the case, we probably forgot to mention some nice location sharing apps. Overall, the apps mentioned in this list should offer everything you need when it comes to location-sharing, but if you know about an app that can offer more features, please let us know.
Also, if your favorite isn't featured on this list, feel free to let us know by mentioning your favorite location-sharing app in the comment section below.