Chipin is delighted to announce that we are official media partner for Money 20/20, one of the most anticipated annual events with a major focus on worldwide payments and financial services.
We will be attending next year's (2018) edition in Singapore at The Marina Bay Sands, the first of its kind to be hosted in Asia.
The event, which will be held from the 13-15th of March, hosts an impressive list of notable speakers, many of whom have contribute significantly to the fintech industry.
Some notable names include (check out the full list of speakers here):
Karla Allen – Senior Director of Mobile Payments, Walmart
Cheng Li – Chief Technology Officer and founding engineer, Ant Financial (formerly Alipay)
Scott Galit – CEO and Director, Payoneer Inc
Thomas Ko – Global Co-GM, Samsung Pay
Matthias Kroner – CEO, Fidor Bank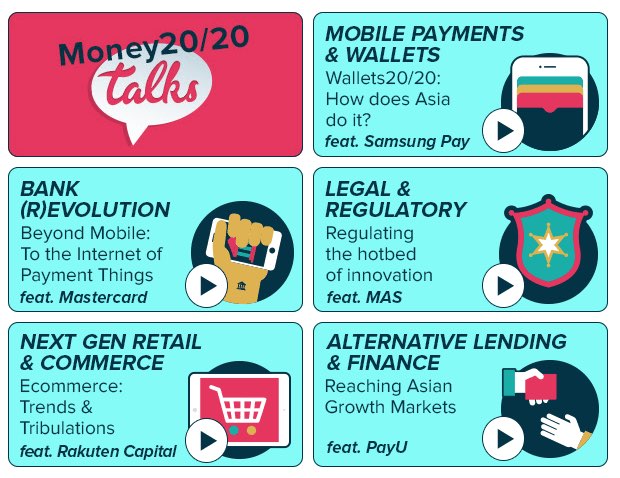 Money20/20 Asia covers some of the hottest topics in global financial services on the main stage with topics like:
Mobile payments and wallets – Focusing on many important mobile payments integrations and technological advances which will benefit both corporate and small businesses alike.
Moving money internationally – The event will also focus on how digital financial services will change moving money across borders as well as understanding how it is disrupting traditional money and payment services
Alternative and peer-to-peer lending and financing – As fintech startups grow across the region (and worldwide), consumers now have wider options in obtaining loans or financing for their businesses from non-banks and financial institutions; the event will cover what this means for financing and how it will affect its landscape in the future
Distributed ledgers and the blockchain – The blockchain has been nothing short of revolutionary ever since its inception. As more companies adopt the blockchain technology in their processes, Money20/20 will discuss how the blockchain can be applied to current and future businesses as well as its application in financial services
Money20/20 Asia has teamed up with Mastercard, PayU, Rakuten Capital, Samsung Pay and the Monetary Authority of Singapore, to give you a sneak peek at some of the key industry themes that will be explored at the inaugural event in March 2018.
For the full list of topics covered in the event, check out the agenda on Money20/20's official website.
Save 25% to join #M2020Asia before this Friday. Book now using 18CHI for an extra US$250 off
As the event unfolds in 2018, we will update you on the latest news and updates regarding the event as soon as we hear about it.
To make sure you don't miss out, subscribe to our mailing list and we'll let you know as soon as we have a new article up!