If you travel frequently, chances are you've been there. You're running through the airport because you're going to be late to your meeting or event, partially because you had trouble getting through security. You get to the luggage claim, ready to grab your bag and run off so that you can make it to your important function just on time. But you can't find it. After an extensive search, you finally locate it and rush off to whatever it was you're late for.
It's a familiar situation. If you haven't experienced it yourself, you probably have at least heard someone tell a story about it happening to them. No one's really come up with a reliable solution to these kinds of airport troubles yet. But what if I told you that your suitcase could help solve them for you?
What is Smart Luggage?

That's the goal of the various startups and more established companies in the smart luggage game. These innovators create suitcases and carry-on bags that have a bunch of high-tech features designed to make travel easier.
The features include things like location tracking so that your bag doesn't get lost or stolen, integrated scales to help your luggage stay within weight limits and batteries with USB ports to charge your electronics. There are now a number of smart luggage options on the market, so here's a list of all the best high-tech luggage for your next trip.
Best Smart Luggage
Away
1.

Looks

Away offers four different sizes of their signature suitcase. There are two carry-ons. One measures 21.7" x 13.7" x 9" and weighs seven pounds. The other is 22.7" x 14.7" x 9.6." Both of them fit into the carry-on size requirements for major airlines. There's also a medium 25" x 17.5" x 10.5" checked bag and a large 28" x 19.5" x 12" checked bag. The bags have a simple but smart plain black design. The build leaves a little bit to be desired though and the bag tends to wobble as you roll it around. The shell is designed to be flexible so that it doesn't break. It bends quite a lot, which might actually cause problems if you're carrying anything exceedingly fragile.
2.

Features

Away's carry-on features a 10,000 mAh battery with two USB charging ports – one for regular charging and one that's more high-powered for faster charging. As far as tech goes, that's all that Away offers. The checked bag doesn't include any smart features. The bags do feature a TSA-approved combinations lock and several zippered compartments, a removable laundry bag and a compression system to help you pack compactly. The different sized bags also fit in each other for easy storage after your trip.
3.

Price

The smallest carry-on costs $225, and the bigger version's price bumps up to $245. The medium checked bag will costs you $275 and the large costs $295. Away offers some of the most affordable smart luggage available, but you do sacrifice some features including the integrated scale and location tracking. However, if you're looking for a solid suitcase with just a splash of tech, Away fits the bill.
Raden A50
1.

Looks
Raden is one of the biggest players in the smart luggage game – and for good reason. Their carry-on and checked bag offerings look sleek but also just like regular suitcases and come in seven different colors, so that you can customize your bags to fit your personal style. They feature a sturdy polycarbonate shell to help them withstand the wear and tear of travel. At 28" x 21" x 13," the checked bag weighs about 13 pounds. The carry-on comes in at seven pounds and measures 22" x 19" x 14."
2.

Features

Raden's products come with all of the main features that smart luggage tends to offer. There's a 7,800 milliamp hour (mAh) battery, which the company says can provide up to four full phone charges. There's also a built-in scale to help you make sure you don't overpack. The bags also come equipped with location awareness, so that you can track your stuff's location with Raden's companion app. To top it all off, there's a TSA-approved lock and waterproof zippers.
3.

Price

The 28" check bag goes for $395, and you can get your hands on the carry-on for $295. If you decide to go for the set, you can save a few bucks and just pay $595 for the two of them.
Bluesmart Black Edition
1.

Looks

Bluesmart, whose 2014 Indiegogo campaign raised over $2 million, bills itself as the world's first smart carry-on. The company followed up its original Bluesmart One case with the Bluesmart Black Edition, which is similar but with a few upgrades, mostly centered around the materials it's made of. The case's Makrolon body and shell are more weather resistant and durable. The Bluesmart Black Edition measures 22" x 14" x 9," the standard size for major airlines. It weighs 9.4 pounds.
2.

Features

Bluesmart's Black Edition has all the same technology as the Bluesmart One – built-in charging, location awareness, an integrated scale and a remote lock. The suitcase has a 10,4000 mAh power bank that the company says can recharge a phone five to six times on one charge. The remote lock feature is somewhat unique. If you get out of range of your suitcase, it will automatically lock, and it will stay locked until you open it through the app. The lock is also TSA approved.
3.

Price

The Bluesmart Black Edition goes for $599 on the company's website. If you want a slightly cheaper version, you can opt for the Bluesmart One for $449.
Horizn Studios
1.

Looks
Horizn offers a large variety of models, ranging from cabin-sized trolleys to check-in ones. All of these offer a pleasant, bold aesthetic with well-defined features. There is a DJ Trolley model that measures 8.7"x17.9"x18.9" and weighs 12 pounds, several Cabin Trolley models that measure 15.7"x21.7"x7.9" and weigh around 7.5 pounds. They both feature German polycarbonate hard shells, while the Cabin Trolley features a 360° ultra-durable, aerospace-tested polycarbonate hard shell. Most of the models come in different colors, with the Cabin Trolley Model H2 boasting bright colors such as Infra Red or Electric Blue.
2.

Features

Every Horizn smart luggage trolley features a TSA-approved lock, an inbuilt 10,000 mAh removable battery with 2 USB ports and silent Japanese 360° spinner wheels. The DJ trolley has multiple compartments for digital equipment, and a nylon front pocket. Customers can opt for GPS tracking at an additional cost, or for a smart card that notifies you whenever your luggage, wallet or handbag has gotten more than 30 meters away from you.
3.

Price

The Cabin Trolley Model H2 is the cheapest smart luggage available, starting at 200 euros, while its Model M counterpart costs 300 euros. The Check-In Model H2 costs 250 euros, and the DJ trolley costs 500 euros. If you're not sure about your purchase, Horizn offers a 100-day risk-free trial, meaning that you can return any model within 100 days of your purchase, no questions asked.
Néit
1.

Looks

This Kickstarter-funded company's claim to fame is that its bags collapse to under three inches even with its aircraft grade aluminum frame and polycarbonate shell. The case has a sturdy build and a no-frills, functional-looking black exterior. The design isn't quite as sleek as some of its competitors, but it's quite durable and practical. The company offers a 90-liter checked bag that weighs 10 pounds and measures 29" x 18" x 12." The carry-on version comes in at eight pounds and measures 22" x 14" x 8."
2.

Features

As far as smart features go, Néit's bags are a bit lacking, although the company says it is adding location tracking soon. For now, the features are mostly low-tech and include a waterproof exterior, a TSA-approved lock and, of course, the ability to collapse for easy storage and enhanced maneuverability. Once the company launches the location-tracking feature, its bags will become truly smart. There's also a companion app that allows you to track the bag, as well as find hotels, flights and other travel accommodations.
3.

Price

Néit's prices are quite reasonable compared to some of its competitors. but you do have to sacrifice a few of the high-tech features. The luggage is high quality however. The checked version will run you $295, the cabin size costs $245, and you can nab the two as a set for $495.
Planet Traveler Space Case
1.

Looks

Planet Traveler says that it "set out to design the most fashionable smart luggage in the world." Its suitcases are pretty slick, and they offer some cool tech features as well. The company offers an eight pound bag that's 21.5" x 7.5" x 13.5." It's eleven-pound bag measures 29" x 11.5" x 21." The case comes in four styles – polished silver, polished black, stealth black and raw carbon fiber texture.
2.

Features


The lock on the Planet Traveler Space Case helps set it apart from the competition. You can unlock your case by placing your finger on its fingerprint scanner or through the companion app. The app also features location tracking and a proximity alert that will let you know if your bag enters or leaves your immediate area. You can even arm your case so that the case itself issues an audible alarm if it leaves your vicinity. There's also a Bluetooth-connected scale and a Bluetooth-connected speaker system integrated into the suitcase. It features a 12,000 mAh battery with three USB charging ports.
3.

Price

The extra features that aren't available on some other bags bump the price of the Planet Traveler Space Case up a bit. The small case costs $750, and the larger version is priced at $950. You can get the two cases as a set for $1,660. It's a bit of a hefty price for luggage but if you want a bag that's truly decked out with tech, this might be the right choice for you.
Trunkster
1.

Looks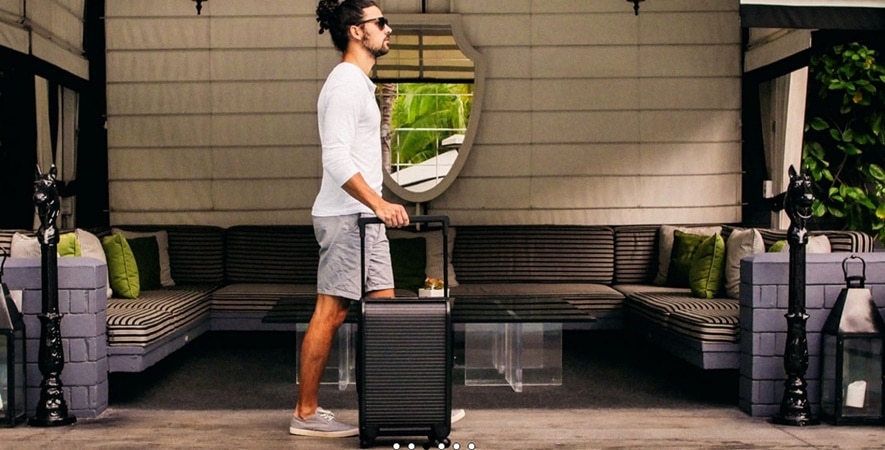 What sets Trunkster's smart suitcase apart from other smart luggage is the way you open it. Instead of a zipper or a latch, it features a rolltop door that brings to mind a miniature garage door that allows you to quickly and easily access your stuff. The bag weighs 10.3 pounds, measures 22" x 14" x 9″ and has 43 liters of packing space. Rather than having the separate compartment inside, the inside of the bag is just one big open space, which could be a positive or a negative depending on your packing style.
2.

Features

Trunkster's smart bag features a 10,400 mAh power bank that is designed to be easy to remove and upgrade with another, more powerful battery. You can use the bag's two USB ports to charge your devices. The case also features a built-in digital scale with a display on the bag itself. You also get GSM location tracking that integrates with Trunkster's app, but it's only free for one year. The bag's durable outer shell is also water resistant, and the handle is easy to use and retract. One downside is that it doesn't come with a lock.
3.

Price

At $295, the Trunkster is more affordable than some other smart luggage offerings. If you want to keep the tracking service after a year, it will cost you $5 for one month, $20 for six months or $30 for a year.
Modobag
1.

Looks

First off, what makes the Modobag exciting is the fact that it doubles as a motor scooter – but more on that later. As for the bag's specs, it measures 22" x 14" x 9" and is, understandably, the heaviest smart suitcase on this list at 20 pounds. It has a lightweight aluminum frame and high strength ballistic nylon shell that allows it to be both light and durable enough to transport a person.
2.

Features


The Modobag has a 200-watt electric motor that can reach speeds of up to eight miles an hour and run for up to six miles. The company's website points out that the top speed of the bag is three times the normal walking speed. It also includes a dual braking system to help you avoid airport fender benders and a touch-control dashboard. The bag features two USB charging ports and will recharge in under an hour. You also have the option of adding a GPRS/GSM location tracking system that works with the optional companion app.
3.

Price

You can buy the Modobag on Indiegogo for $1095 plus an additional $69 if you want the tracking capability. The company's fundraising campaign was successful and delivery is estimated for May 2017.
Barracuda
1.

Looks

The Barracuda measures 22" x 14" x 9" and weighs 8.7 pounds. It can, however, collapse to 22" x 15" x 4.5." The bag has a more casual look than some of the other smart bags and is made of Bayer Makrolon Polycarbonate Ballistic Nylon and Aircraft Grade Aluminum. Unfortunately, the design of the bag isn't flawless and the craftsmanship is not quite as impressive of some other smart suitcases. Zippers frequently get stuck and some of the features aren't particularly easy to use.
2.

Features

The Barracuda emphasizes convenience with its collapsible laptop tray and two cup holders, which will help make your time waiting for your flight a little more enjoyable. The bag also includes a 10,000 mAh battery and a USB charger. The battery is removable, and you have to take it out of the bag in order to charge it. It also features a digital scale. Location tracking isn't standard but you can opt to add in the feature. Additionally, the bag's exterior is waterproofed. The Barracuda also has some neat features that help you store it. It comes with a bag that fits the suitcase once you collapse it, which you can hang in your closet.
3.

Price

You can purchase the Barracuda on the company's website for $349 or get two for $299 a bag. If you want luggage for the whole family, you can get four for $273 per bag. If you'd like to add location tracking, you can purchase a Lugloc luggage tracker from Barracuda for $50, which is cheaper than such a system usually costs.
TraxPack
1.

Looks

Traxpack just finished up a successful Kickstarter campaign for its smart luggage offering, which focuses on easy maneuverability in addition to tech features. The case weights eight pounds and measures 22" x 14" x 9." The hard shell exterior is a smooth-looking black with a few colorful accents.
2.

Features

What sets Traxpack apart is its focus on maneuverability. It has tracks like those on a tank on the side of the bag so that you can easily roll it upstairs. The handle also tilts, so that you can comfortably pull it at different angles. For added convenience, it includes a mobile device stand, so that you can comfortably use a tablet or other device while waiting in the airport. The way that Traxpack handles its smart features is unique as well. The company allows you to pick and choose which ones you want when you check out on their website. Your options are a GPS tracking system and a proximity sensor, a built-in scale, a TSA-approved lock and packing cubes.
3.

Price

Price, of course, varies depending on how many of the features you want. Full functionality costs a little under $300, and the bare bones case costs $139.99.
Ready Travel
1.

Looks


Another recent graduate of a crowdfunding campaign, Ready Travel expects to start shipping its smart luggage around June 2017. Ready Travel makes perhaps the most stylish of the smart suitcases, but it's made with aircraft grade aluminum and 100% polycarbonate shell so it's durable as well. It's also scratch and water resistant, so you don't have to worry too much about it getting damaged during travel. The case weighs a little over eight pounds and measures 21″ x 14″ x 9."
2.

Features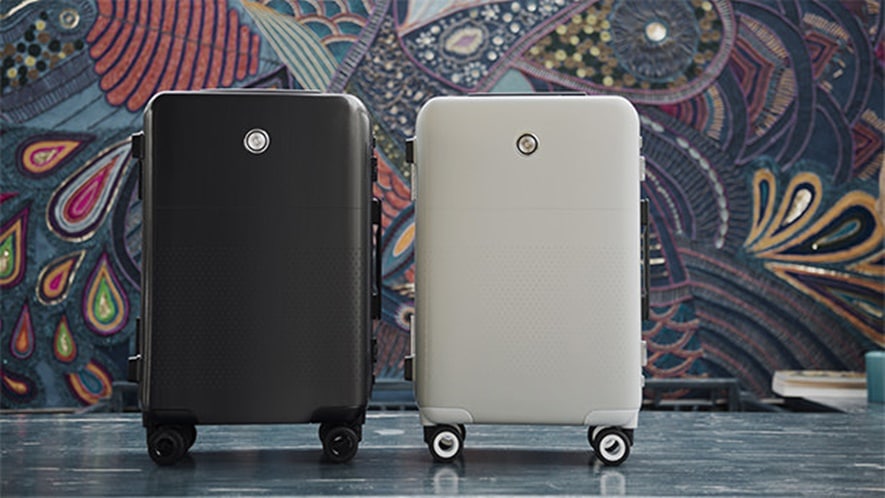 The Ready Travel bag features all of the major smart features available on many smart suitcases. It has an integrated scale, tracking capabilities, proximity alerts that let you know if your bag leaves your vicinity and USB charging ports. It's designed to for use with a battery but one doesn't come standard. The company does offer a 10,000m mAh battery for a reasonable price though. It also has a TSA-approved lock and a cup holder. Instead of using a zipper, the bag utilizes latches on the side of the case.
3.

Price

Although the retail price for the Ready Travel bag is $339, if you order off of Indiegogo, you can get the bag for $199. If you order a battery with your bag, you'll pay an extra $19 for a charger that the website says has a retail value of $39.
UPDATE: Ready announced in August 2017 on their Indiegogo Page, that they have ran out of money and won't be able to proceed with the mass manufacturing of their Smart Luggage range. This unfortunately leaves all backers out of Pocket.
Bonus: E-CASE
1.

Looks


E-CASE just started its Kickstarter campaign and has already surpassed its goal – a good sign for the startup. The campaign is scheduled to end on May 22, 2017. The E-CASE comes in three sizes. There's a carry-on that's 22" x 14" x 18," a smaller checked bag that measures 26.5" x 18.5" x 10.5" and a larger check bag that's 31.5" x 21" x 12." It comes in black, navy blue, rose gold, mint, and teal but the company says that you can message them if you want a different color.
2.

Features

The E-CASE team emphasizes the fact that it uses a combination of real GPS, GSM, WiFi, and Bluetooth signals for its tracking. GSM-based positioning, the company says, must be disabled during the flight to conform to airline regulations. Upon landing, you only get a one-time notification that tells you just that it arrived at the airport. Because of its use of GPS, E-CASE says that its tracking is more accurate. The suitcase also includes proximity alerts, a built-in scale, a lock that can be opened by fingerprint, through the app or by SMS, a removable 12,000 mAh battery that lasts 10 days and USB ports. E-CASE also guarantees that its luggage is TSA compliant.
3.

Price

According to the Kickstarter page, the retail cost of the carry-on is $489, the small checked bag goes for $549 retail, and the large version's retail cost is $609. You can however currently get one for pledges of $269, $289 and $349 respectively. The cases come with two free years of the GSM portion of the tracking service. After your two free years, the service costs $9.99 annually.
Frequently Asked Questions
Could My Luggage Get Hacked?
There haven't been any reports of smart luggage being hacked yet. There was
an episode in 2015
in which an image of TSA's master key was posted online, meaning anyone with a 3D printer could potentially make a key that could open TSA-approved locks. The picture was quickly taken down but not before it circulated online. This doesn't just apply to smart luggage, but it does go to show that security is always at something of a risk especially with new technology. There aren't too many noticeable ways in, though, for hackers when it comes to smart luggage, and they seem to be relatively secure so far.
Will I Have Problems With Airport Security?
Smart luggage makers take great care to ensure that their products meet regulations, but because they are relatively new, they come with a bit of a learning curve. In most cases, there shouldn't be any
security issues
but they may at times attract unwanted attention.
A writer for the Next Web
did run into security trouble while testing out a Bluesmart suitcase. Security told her that as smart luggage becomes more popular, they'll probably receive training on it, which will help avoid problems. Bluesmart also conceded that the bag's wiring should not be exposed and said they're working with their supply chain to correct those kinds of issues. While smart luggage might cause some problems now because of their novelty, those incidents will likely become less common in the future.
Will They Get Damaged During Travel?
It's true that having more electronics means having more electronics that have the potential to break. The vast majority of smart luggage, though, has a tough and durable shell, so it shouldn't be a problem. If you know you tend to be a bit rough on your luggage, go for one of the suitcases whose makers emphasize durability.
Will It Fit On the Plane?
Most smart luggage, both carry-on and checked, is made to fit within airline requirements. Since this is a vital issue, luggage manufacturers post dimensions on their website and will usually clearly advertise that their products conform to airline regulations. As requirements and dimensions sometimes vary though, always be sure to do your research before heading to the airport.
Will They Get Cheaper?
As the technology used in smart luggage and the processes used to produce it improve, prices will drop. As happens with
most forms of technology
, the products will become cheaper to make, more advanced and, therefore, will cost less over time. The competition will also play a role. As more and more startups and established companies introduce smart luggage, the increased competition will drive prices down.
Smart Luggage: The New Face of Travel?
Our world is becoming increasingly connected. More and more of our appliances, infrastructure, vehicles (and pretty much everything else) are gaining new high-tech functionalities. Luggage is no exception.
The smart luggage industry is still young, but there are already a fair number of players in the game. Startups, often beginning their journey with crowdfunding, are dominating the smart luggage field. More startups are likely to pop up in the near future as well as competing products from big, established brands.
For now, these 10 leaders in the smart luggage industry are offering the best-connected luggage on the market. It remains to be seen, although the signs point to it happening, whether or not smart luggage will change the face of travel.