We caught up with Kosta Popov, the CEO of Cappasity, a while ago to talk about their ICO launch.
We recently sat down with him again in another interview to talk about how the ICO went as well as gathering his thoughts on it.
Hi, Kosta. Congratulations on running your token launch!
Can you let us know what the results of the first phase are? Did they meet your expectations?
We successfully completed Phase 1 of the ICO and the results fully met my expectations. The crowdsale received wide public support –  over 8,000 people registered on the portal. Upon completion of Phase 1, CAPP was listed on Cryptopia and the demand for our token, which is intended to be used within our platform, has grown by 40 times!
Cappasity token has demonstrated such a strong growth. What is the reason behind an increase in the token value?
When we were running Phase 1 of the ICO, we sought to attract those crowdsale participants who were really interested in using the token within our platform. CAPP is a utility token, i.e. the only payment vehicle within the ecosystem which is built around the Cappasity platform. The latter is designed to create, integrate, sell and buy 3D and AR/VR content and utilizes blockchain technology to protect copyrights and conduct payment transactions within the ecosystem. Thanks to Cappasity, production of high-quality will become quick and inexpensive.
In addition, the number of our clients is constantly growing and we are actively working on adding new features to the platform. For instance, at the end of the last year, we released a mobile application for iOS that allows users to view and, in the future, create 3D images using their smartphones. Now we are working on the launch of our platform in China.
Why did you move on with the decision to hold ICOs in phases?
Are there any advantages of having several ICO phases instead of holding only one?
CAPP is a utility token and we would like CAPP holders to be truly interested in the development of the Cappasity ecosystem. We don't want to sell CAPP to speculators because they will sell out their tokens as soon as the ICO is over. What should we do to gather like-minded people who are really interested in the development of the ecosystem?
During Phase 1, we issued a limited number of tokens for our community members and, as a result, we got CAPP holders who were interested in our ecosystem. Those who are not true supporters have already sold their tokens and this is for the best. The community has been growing between the two phases. Now we have like-minded people as our community members and they are ready to participate in Phase 2 of the ICO. These participants will attract more people who are also keen on the development of the ecosystem.
Our goal is to create a community and demonstrate our transparency. Our team is always available on social media channels and we post regularly about our progress.
Phase 2 of the ICO starts soon. Please, tell us about its specifics. Can participants expect to receive bonuses?
Presale starts on February 22 and will continue till March 22. Phase 2 starts on March 22 and will last for 28 days. To participate in the presale and become one of the early crowdsale participants who will get an early bird bonus of 10%, a participant needs to register on https://tokensale.cappasity.com by clicking "Sign Up" as soon as possible. The early bird bonus is allocated on a first come first serve basis. Prior to the start of Phase 2, we will send messages with requests to accept legal agreements for Phase 2 to our crowdsale participants. Then, participants will be able to log in and see whether they are accepted to participate in the crowdsale.
Apart from the early bonus, we give our crowdsale participants an opportunity to receive community bonus which is intended to reward those participants who will purchase tokens during Phase 2, but at the same time have purchased them during Phase 1 (or on an exchange) and have been storing them on their wallets. We are going to check their wallets before we allocate the bonus. The maximum possible community bonus – 7 %. All bonuses will be summed up and allocated after the ICO is over.
We also have an affiliate program – if someone registers on https://tokensale.cappasity.com through a participant's referral link, the owner of the link receives 5% from each transaction performed by a new participant.
On January 23, we held the first meetup for Cappasity holders in Paris. Within the framework of the event, we fully informed our community about the details of Phase 2. The recording of the event is available at the following link
What is the idea behind CAPP? What role does it play in the Cappasity ecosystem?
The Cappasity ecosystem is a global environment intended for creation, integration, and sale of 3D content. The ecosystem is convenient as it provides users with all the necessary tools for fruitful interaction and, therefore, allows for the quick and inexpensive production of high-quality content.
CAPP is a utility token. That means that CAPP will be used as the only payment vehicle for all transactions within the ecosystem. If you need to buy, sell or rent the content, you will need to use CAPP.
As of now, we have implemented an internal exchange which makes it possible to buy tokens at the client's request. For example, we have a client who pays for services on our platform with their PayPal account or credit card. We give them an option to buy CAPP tokens directly on the platform and use our services. The platform automatically buys CAPP tokens from exchanges and offer them to our clients. More clients give us a higher token turnover.
Here is how it works:
As far as I know, you have launched Cappasity's Innovation Fund to support developers using the Cappasity platform. Could you tell us more about it?
The Innovation Fund is a grants fund that we are launching in order to support developers working with 3D format and creating new immersive experiences with Cappasity solutions. Once Phase 2 of the ICO is completed, the Fund will be equal to nearly 10 million US dollars in CAPP token and ready to be distributed across participants. Our goal is to attract the most talented teams utilizing Cappasity's platform and tools.
In order to take part and apply for a grant, a developer will need to fill out a form, describe the project and justify the amount of the requested grant. Once a month, we will be sending all applications to our advisors. After the initial sifting, we will put suggested projects to a public vote. The community will vote for 5 best projects. These projects will receive not only CAPP token grants, but also our marketing support immediately after the products have been released. The application will be open in April.
We provide developers with various tools that allow them to easily create and embed the content – a software for 3D imaging, the JavaScript API, iOS/Android 3D capturing framework, SDK and plugins for Unity and Unreal, etc.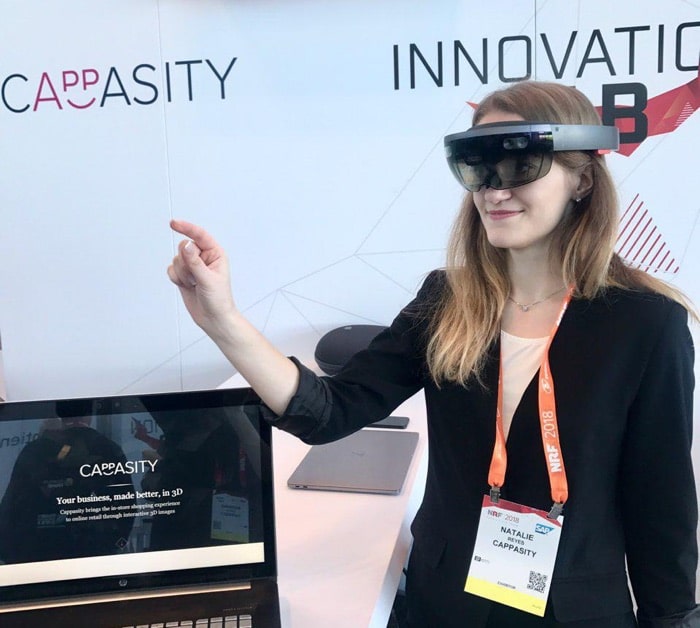 Cappasity has also officially released the mobile app for iOS users with an Android release slated for Q1 2018.
What is the impact and benefits of this release on the project, especially to crowdsale participants?
The release of a mobile application is another proof of our expertise and justification for the crowdsale participants' expectations. When we reach the next milestone in our roadmap, we expand our business and open up new opportunities for our users.
On the topic of partnerships, Cappasity has recently partnered with the New York Academy of Art.
What is this partnership about and can we expect more partnerships in the future?
The New York Academy of Art actively utilizes our technology to create 3D images of art pieces. The management of the New York Academy of Art uses 3D images of sculptures for websites, art portfolios, presentations, exhibitions, and auctions that are aimed to raise funds to support the most talented sculptors. In addition, in the nearest future, we will start developing a virtual tour around the exhibitions and expositions of the Academy.
It is also worth mentioning that, apart from the Academy, the Cappasity's platform will be utilized by 30 US educational institutions in 2018.
Of course, we are constantly working to increase the number of our clients and partners. I will not disclose all the secrets, but the announcement of a new partnership is just around the corner.
The period after the ICO is usually when startups are scrutinized the most by investors and other users. How do you plan to deal with the pressure and expectations of CAPP token after the ICO?

As we fulfill what we have planned and promised on time, we do not feel any pressure. Quite the opposite, in fact, users often write us that they appreciate our we work and believe in our team.
Any last words before we end the interview? You can say anything here; a brief comment about Cappasity, a shoutout, words of encouragement – anything works.
We invite all those who believe that the future belongs to AR and VR technologies to participate in Phase 2 of the ICO. Together we will revolutionize the creation of 3D content and bring AR и VR technologies to their brightest future.
That wraps up our ICO interview with Cappasity's CEO, Kosta Popov.
More Interviews to come
We'll be scheduling even more exclusive interviews like this in the coming weeks to delve into the minds of what makes a blockchain startup tick as well asking the questions you want to know the most.
To make sure you don't miss out on our exclusive interviews, go ahead and sign-up to our mailing list and subscribe to our social media channels.
Get in touch to let us know who you want us to interview as well as the questions you want us to ask.
You'll get notifications on the latest exclusive articles as soon as they appear on our website – we won't and will never spam you.