It's always a battle for the finest whenever you're talking Jawbone vs Fitbit. The two companies are undeniably playing in the same league as Apple, Google, and other tech giants as far as the activity tracker space are concerned, and this can be ascribed to their inclination to keep up with the ever-advancing tracker technology.
The past three years has seen the wearable industry undergo a whirlwind of technological amendments and reformations, and the main point for the manufacturers has been to try and encompass as many features and functions as possible in their tiny doodads. Apple has recently fashioned an upgrade of its activity tracking smartwatch, the Apple watch, after little over one year of its being in the market; Microsoft followed suit with their Microsoft Band; and the biggest performers on that front, Fitbit and Jawbone have entertained us with series of their own.
Fitbit has more than six fitness trackers to its name to date while Jawbone boasts a total of five generations of the famous Up series. The Fitbit Surge and the Jawbone Up 4 are the companies' latest and most refined versions of their works, but counter-intuitively, they have not been the most welcome in the voracious market of activity trackers; their respective predecessors, the Fitbit Charge 2 and Jawbone Up 3 actually are (if volume of sales is anything to go by).
So, what sets the Charge 2 and Up3 apart from the precursors and successors in their respective product strings?
In a nutshell, they are both fairly more comprehensive, more accurate and more efficient than their little siblings. Secondly, they are less expensive, less complicated and more specific with their functionalities than their successors. If we were talking about their similarities, then that's how a superficial delineation would look like.
Enough with the primer now and straight to what brings us here: Jawbone Up 3 vs. Fitbit Charge 2; who merits the bragging rights?
Below is an abreast comparison of the two fitness trackers on every facet that matters. Enjoy.
Design
I've always been hypercritical of gizmo companies and how much they tend to focus on features and functionality, completely forgetting to employ any creativity in the device housing, but I must admit that external appeal is by and large a matter of individual conscience. Some of us prefer the less conspicuous trim and sleek fitness trackers that can fit and remain unobtrusive under the tightest of sleeves while most others would go for the smartwatch-size wristbands with touchscreen displays and more sophisticated dials. If you're for any of the tastes, you have these two to choose from.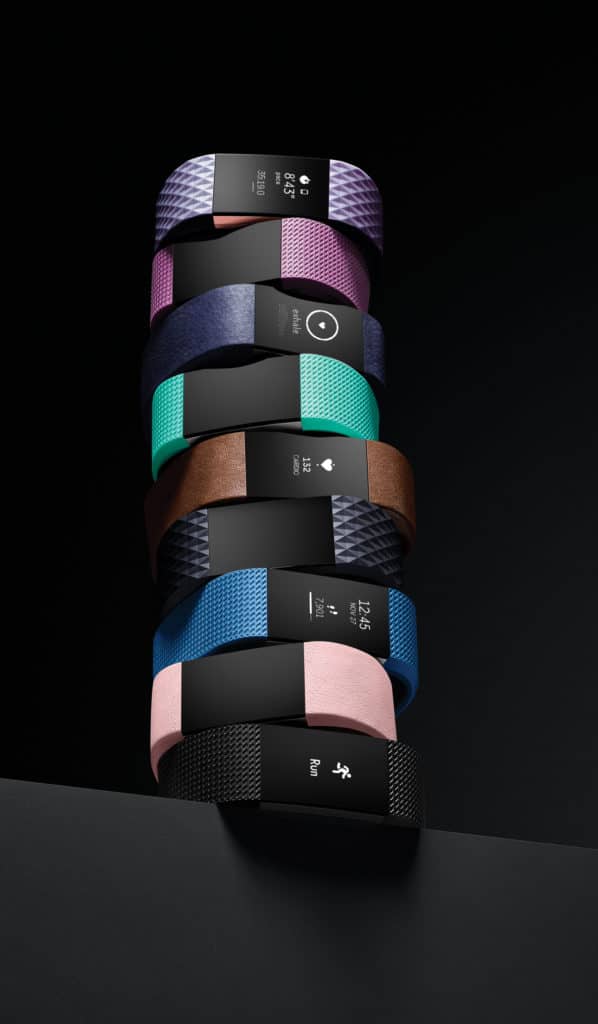 The Jawbone Up 3, just like the rest of its siblings, is super-slender and has no display screen (Jawbone's biggest letdown) and only one control button, to highlight its simplicity. It, however, sports a very friendly fit, which, together with the new hook and eye closure mechanism, make it comfy enough for a day and night long wear.
Fitbit Charge 2, on the other hand, is wider and thicker, and generally takes the shape and size of the outmoded sports watches. It has a plastic strap which is fastened to the arm via a buckle and, similar to the Up 3, has a single control button on the side. Its display screen, a feature Fitbit never forget to include in their devices, is fairly tiny and can only display one notification or stat at a time, but nonetheless, stands as a plus in comparison with the Jawbone Up 3 which exclusively has to be connected to a mobile device to display the stats.
Water Resistance
Both the Fitbit Charge 2 and the Jawbone Up 3 are water-resistant, not waterproof; they can withstand splashes, shower, and rain but are not suitable for swimming and bathing. That said, Fitbit, in their manuals contradictorily seem to advise against wearing their trackers into the shower or rain to avoid damage. Well, if that is anything to go by, then the Charge 2 is the last thing I would recommend you fork out more than £20 for. Luckily, though, I've done tests of my own, and if I have to say, there have been no signs of water damage in my device for the 8 months I have been showering with it.
Activity Tracking
Counting steps, estimating the amount of calories burnt, measuring distance traveled and a number of active hours is what most fitness trackers do; the Charge 2 and Up 3 are no exception. Save for a slight difference in the number of steps made per time period, whereby the Fitbit records more than the Jawbone, both can be deemed reliable for step counting. On calories burnt, the slight difference is maintained, and this is basically because the measure is calculated from the steps you make and the general amount of activity recorded in your device.
Even with the display disadvantage, the Up 3 still has the edge over the Charge 2 with an additional sports detection skill and the ability to sense extensive idleness and nudge the wearer with a slight buzz.
Unlike the Microsoft Band or the Fitbit Surge, both the Charge and the Up 3 have no built-in GPS, which makes them an unlikely pick for serious runners.
Heart Rate Monitoring
Protruding from beneath the strap of the Jawbone Up 3 are three heart rate monitoring sensors which record data in both active and resting periods of the wearer. The resting heart rate has been shown to be a crucial indicator of better cardiovascular fitness, and this partially justifies the company's description of this product as the "most advanced fitness tracker known to man". Compared to other reliable heart rate tracking devices, however, the Up 3 offers slightly lower readings per minute, which could add up to provide misleading stats for a longer period, say, a whole day.
The Fitbit Charge, on the other, utilizes the company's new technology, PurePulse, to offer 24/7 heart rate monitoring. The constant monitoring may come in handy for individuals who get involved in several activities of varying intensities in a day, and also results in a more accurate figure of the number of calories burnt, according to the manufacturer. Regarding accuracy, tests have shown the device to be perfect during light workouts but unreliable as a heart monitoring tool, and misses a step or two during intense gym sessions and outdoor runs.
Both the Fitbit Charge 2 and the Jawbone Up 3 offer heart rate monitoring – a feature barely common in fitness trackers – but neither of them does it accurately. Nonetheless, both of them offer the keynote resting heart rate tracking and thus deserve some credit for the effort.
Sleep tracking
Sleep tracking is another feature included in both the Charge 2 and the Up 3. Unfortunately, neither of them can outdo the Withings Activite as a sleep tracker, but if your sleep cycles and the amount of time you spend in bed are all you wish to monitor, the two offer perfection. Perhaps the main difference between them is the fact that Jawbone does the tracking automatically (detects sleep) while the Fitbit has to be reminded and set prior to getting to bed.
The Jawbone Up 3, in addition to that, has the ability to tell between deep sleep, REM and light sleep, and, through the UP app, analyses your statistics and recommends positive amendments to your sleep schedule and general lifestyle. During light sleep, the band, through its smart alarm feature, produces a little buzz on your wrist after a window of 30minutes (default) to get you up and active again.
For those reasons, Jawbone Up 3 emerges as the hands-down winner, and sure enough, only a handful of devices out there can match or even surpass the gadget's sleep tracking prowess.
Jawbone UP app vs. the Fitbit App
As I mentioned earlier, one thing that will always count as a downside for Jawbone fitness trackers against other mainstream brands on the market is the lack of a display. Most individuals, especially athletes, who have to engage in intense outdoor exercise, prefer receiving their stats in real time, and direct from the fitness tracker, not a separate gadget. The Jawbone Up 3 wouldn't offer this. You need an Android or iOS device, installed with Jawbone's UP app, to receive the stats, have them interpreted and displayed.
If you're fine up to here, the rest is excellence; the app works like a dream and displays the stats in the friendliest of interfaces. Furthermore, through the Smart Coach feature, it studies your performance, in terms of keeping active and sleeping, and advises you on what to do and what to avoid to lead a healthier lifestyle. This means that the more you use the fitness tracker, the better it learns your activity and sleep cycles.
I've also never experienced connection or syncing troubles for the last 8 months I have been using the App. As long as your phone is within range and your Bluetooth connection is on, syncing will take place automatically and the stats will come flying straight to your home screen.
For the Fitbit, it may not be having a better app, but the presence of a display screen is enough to consider it a favorite in this contest (ok, that's all up to you). The display may not be that big, but still, you can bank on it to give you real-time stats in a way that I personally find convenient. Also, it brings you call alerts and social media notifications, and can really save you the hassle of having to bring your phone with you during outdoor workouts and gym sessions.
The app comes in handy when you want to make changes in, say, alarm settings, or would like a better view of your long-term progress in the gym. My time with the Charge 2, though short-lived (basically because I couldn't get on with that design; I'm for sleek and classy) was hardly subject to app snags. I've however come across a number of users who have had issues with the app taking "too long" to detect and pair with the tracker. But that was some time back – four to five months ago. Fitbit must have already taken notice of this and solved it in the latest versions of their iOS, Android, and Windows Phone compatible app. Lastly, the app includes the MobileRun feature which lets you track your runs, pace, distance, time and splits in real time.
Price
A Fitbit Charge 2 goes at around $150 in the US and £110 in the UK, similar to Jawbone's starting price of $130. The prices may seem too high for a fitness tracker (especially one that has no GPS connection) but if you can make maximum use of either device, its utility can justly validate the insane price tag.
.

Verdict

While there are numerous options out there that can accomplish just as much as the Fitbit Charge 2 and the Jawbone Up 3, and even provide GPS tracking as an added advantage, only a handful can offer as much reliability as these two. Regardless, the tested and tried option is always the go-to option.

So how do they rank against each other, and who's the ultimate conqueror?

Firstly, there is no such thing as "clear favorite" here. The Charge 2 and the Up 3 are roughly equal; whoever wins does it by a very slim margin.

From the reliability and convenience viewpoints, in which both are pretty first-rate at, the Jawbone Up 3 is slightly above the Charge 2. You can comfortably wear the feather-weight device to the shower, go to work, get back home, sleep and wake up the next morning with it strapped to your arm, and just feel fine in the area around your wrist. You won't have to deal with the intolerable geeky feel either; you can perfectly wear it under your sleeve, and no one will ever notice you have a wristband on.
It will automatically detect when you sleep and start recording your bedtime stats. And when the wake-up time draws near, it will prod you with a "silent alarm" and switch to activity tracking the very moment you open your eyes. In a nutshell, you don't need to press any button to remind your Jawbone of what to do.

The Fitbit Charge 2, on the other hand, dominates the comprehensiveness facet – logically due to the presence of a display. It will not only bring you a real time display of your activity stats but also inform you of an incoming call on your phone in the next room. It will tell you how many steps you've made, a number of calories you have burnt and how your stats compare to those of your friends. It will also provide you with stats of last night's sleep if you switch to night mode, and remind you of activities you have scheduled for the day.