Blockchain will continue to have a strong disruptive influence in the way that creative projects and art are bought and sold online.
The USD $60 billion-a-year art world is warming to the potential of cryptocurrencies in a trend that has only accelerated since the
Austrian Museum of Applied and Contemporary Art became the first museum in the world to buy a piece of art using bitcoin in 2015.
This growingly passionate love affair is occurring for several reasons. The first is the ability of the blockchain technology behind cryptocurrencies to establish an accurate chain of title. The second is the ability to connect buyers and sellers in a way that cuts out the middlemen – the traditional auction houses and galleries.
However, there are other reasons that this tech is taking over the art world. Wanna-be investors in "serious art" who are priced out of the market, can buy shares in pricey work they love but cannot buy outright.
Blockchained social media platforms are also very good ways for artists to establish their own digital brands – with the power this time to control their IP in a way the regular internet never achieved (in fact, quite the opposite).
Bottom line in the art world? Whether it is a Dutch Master or a nouvelle artiste of a contemporary school, blockchain will be part of the palate going forward – if not color this intersection of art and tech in unique and multiple ways into the future.
Introducing All Public Art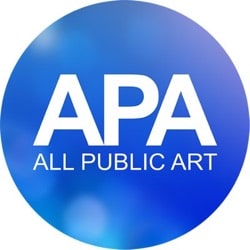 The online art market is growing. According to Bloomberg, this is occurring at an annual rate of about 24%. The market cap of the entire vertical is also expected to top $9.58 billion a year by 2020.
At Sotheby's alone, internet buyers spent $155 million in 2016, up 20% from a year earlier. Christies doubled the number of its online-only sales in 2017.
Yet for all its growth and obvious potential, the global art market faces several enduring problems. The first is the ongoing prevalence of counterfeiting and fraud. The second is the ability of artists to reach buyers in a way that allows them to make money. Middlemen and art dealers are still the bedrock of the global art market and they too are fragmented.
All Public Art is a company with a singular goal. It wants to facilitate the peer-to-peer trading of art that benefits and rewards all participants while eliminating the counterfeiting problems that dog the vertical. The company intends to contribute to the growth and sustainability of the global art community by creating a blockchained ecosystem that supports both artists and art buyers.
The company was launched in 2015 as an app and has continued to grow ever since. Great reviews and a growing community have created a momentum that has inspired the company to implement its blockchained marketplace.
How All Public Art works
The interface is super easy to use. Artists, collectors, and others just have to register on the platform. After registering and creating a profile, artists can post art and art related items in exchange for system (or APA) tokens.
Once the art is registered, they will receive a unique ID which will be used to authenticate their transactions on the blockchain. This will be accompanied, on the art side with a unique tracking identifier that can be used on both digital and non-digital work.
When an art collector finds work they want to buy, they will do so with APA tokens. All they have to do is click on the "Acquire Artwork" button to initiate a direct trade with the artist. In the case of non-digital items, shipping will also be arranged via the platform – both for specialized artwork and regular shipping for more regular transport needs.
Disrupting the global art market
There are several ways in which All Public Art intends to change the global art market. The first is in the application of technology to the existing ecosystem. This creates the ability for simple, easy communication between artists and buyers in a transparent system that is also secure and stable.
Beyond the technical goodies, however, the platform also offers additional uber-benefits to the vertical in general. These include:
Tracking Data and Reducing Risk: All Public Art intends to create a new way to track art as it is traded, minimizing counterfeit sales and building trust within a still highly fragmented global market.
Enabling Mobile Markets: Art happens everywhere and so do art sales. APA has invested time and money in developing an efficient and convenient platform that is globally accessible and instantaneously functional on all mobile devices. Offering a fully mobile art mart allows APA to instantly broaden its scope of collectors and artists and enable them to communicate easily and instantly.
Trade Art Globally: Create art locally, sell instantly to niche customers globally. One of the traditional barriers artists have always had is connecting with customers. The APA platform enables artists to not only have access to a mobile, global showroom, but enables buyers to remunerate artists for purchases easily, and instantly, with a single token.
Eliminating Intermediary Price Manipulation: No more middlemen, no more mark-ups for middlemen. The APA platform allows buyers and artists to directly interact – lowering prices for investors and increasing the artist's remuneration.
The APA Token Sale
Here are the details of the upcoming APA token sale:
Token name: APA
Token base: ERC-20 utility token
Token supply: 800,000,000
Token pre-sale dates: January 29 – February 6, 2018
Token sale dates: February 7 – March 7, 2018
Token sale target: USD $30 million
Token price: $0.075