Ten years ago, the idea of earning money and making a good career by playing games would be a far-fetched thought at best – a notion that has since been demolished.
The incredible rise in professional gaming combined with the rise in the gaming industry itself has seen massive amounts of money flow into the industry; the rise is so quick that companies you'd never expect to see in gaming like Mercedes and GEICO are spending millions in the industry for marketing.
Instead of being seen as a time waster, games are now treated as "fairly" as other entertainment mediums like music or movies and today, even the elderly are into games which shows how much the perspective on video games has changed.
The more interesting aspect of the video games industry is the growth of professional gaming or better known as eSports (electronic sports). Games like Counter-Strike and DOTA 2 have paved the way for gaming to be viable career-wise and the numbers back that statement; gaming tournaments regularly have million-dollar prize pools and top streamers are also making 5-figures a month on average.
All of these massive figures are a byproduct of the immense viewership numbers in both competitive and non-competitive gaming. Estimates show that there were over 300 million eSports viewers in 2016 and as the industry grows bigger, reaching the 1 billion mark is to be expected.
A large part of the growth is the rise in the trading and betting of cash and in-game items. Like real-world sports, betting against tournament results is common and the trading of valuable in-game assets is as popular as real-world markets. Unfortunately, problems exist in today's systems which does not bode well with gamers.
Lack of proper regulations means that users are at a higher risk of losing their money and in-game items. Unlike traditional sports betting or exchanges, gaming platforms are usually not regulated thus exposing users to many vulnerabilities including poor or shady business practices.
Even if a platform is legally compliant, withdrawal still remains an issue as many platforms have poor liquidity and outdated withdrawal practices. All of these problems hinder the growth of the industry and there needs to be a solution that addresses all of these problems effectively.
One of the companies set to leave a huge mark on the industry is Asura Coin, a company set to disrupt the industry with its Asura World platform.
What is Asura World?
Asura World presents itself as a blockchain-based e-Sports platform to solve the problems plaguing e-sports and its related verticals.
Instead of focusing mainly on the money side of things, Asura World uses a community-first approach in which it hopes to create a self-sustainable and self-regulating ecosystem, making the approach the first of its kind in the industry.
What makes Asura different than other platforms is the technology behind its utility token. Asura World will be using the NEO blockchain as its core technology for the ASA Coin, the platform's utility token which will be used to power transactions in Asura.
Aside from being used as a payment method, ASA Coins will also be used to reward users for their contributions to the community which is in line with the platform's community-first approach.
Instead of going all out every game, Asura will focus on a small number of popular games first including DOTA 2, CS:GO and the extremely popular Chinese mobile game, King of Glory.
All future games will be decided by the community through a vote-based system but the Asura World team will automatically add popular games to the platform as it did recently with the addition of the two most popular multiplayer games today, Fortnite and PLAYERUNKNOWN'S BATTLEGROUNDS (PUBG), to the platform's stable.
All of these features combined with top-notch technologies like NEO makes Asura World one of the biggest projects to look out for in the future. Of course, for such an ambitious project to succeed, there has to be an equally ambitious and talented team behind it which is what Asura World does.
Led the by the experienced serial entrepreneur, Peter Shen, Asura World's team will push hard to establish the platform as one of the top dogs in the gaming industry hence overcoming all of the obstacles plaguing the industry today.
How does Asura World work?
The core functions of Asura World are broken down into 5 categories:
e-Sports betting and tournament live stream features
Professional guides by the community
Community matchmaking
Gaming tournaments hosting
Community Center
Unlike other platforms, Asura World has introduced a betting system where the users contribute to how bets are created in the platform. Instead of fixed bets, the community can suggest their own betting ideas to the platform and users who get their bets selected (through a community vote) are rewarded in ASA Coins for their contribution.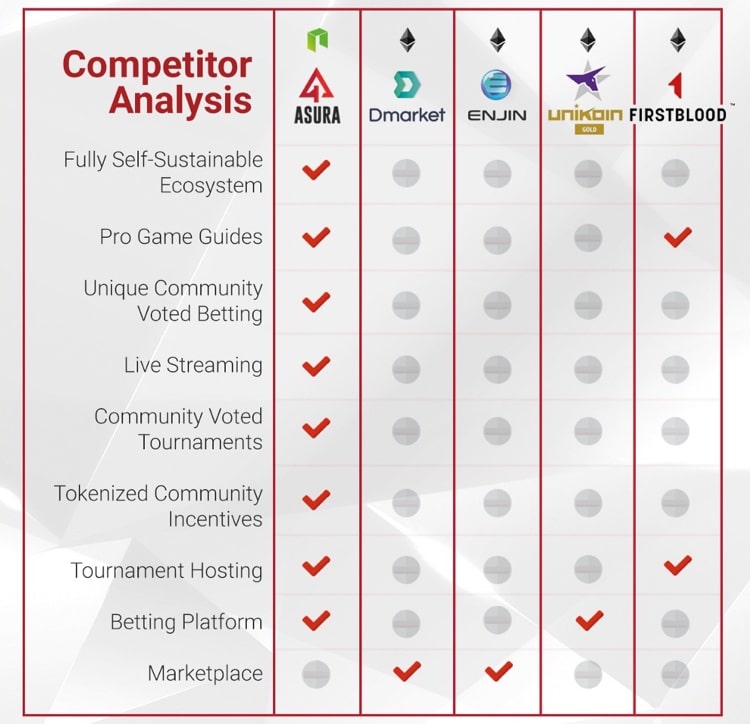 Since the community is involved, bets are more relevant to e-Sports as the community is more likely to suggest bets that are focused more on the game instead of creating irrelevant bets.
For instance, betting on the score of a game like traditional sports may not make sense in games like DOTA 2 where wins are not decided by the number of kills, so the community's input is extremely important and useful in the shaping bets in the Asura World platform.
Betting rules in Asura World are extremely flexible and unique compared to other platforms. Instead of offering limited and unimaginative betting rules, Asura World breaks that standard by offering more specific rules based on the different games on the platform.
A nice addition to the platform is also the live streaming feature where tournaments and gameplay are streamed; these streams are taken directly from Twitch and accessing it is as simple as choosing the game that you want to watch at any given time.
Asura World will also offer professional and in-depth guides to games for the platform's users. Unlike most guides today, Asura's guides are written by top professional gamers, ensuring that only the best and most valuable guides are published to users of the platform. This way, users can not only engage with the platform, but also use it as a tool to improve their in-game skills quickly and efficiently.
These guides will be presented via video clips along with annotated images and commentary as the team knows that text-based guides are less than ideal for teaching especially in video games.
Users can view the first video of a guide for free but to access the rest of the guide, they will have to pay in ASA Coins which are then paid to the guide creator for his or her efforts.
Another great feature of Asura World is the platform's community matchmaking feature, a tool that allows users to host their own matches that can also be staked. Players would agree on the match's terms before the game and the staked funds are then managed by the platform; after the game is over, the funds are automatically released to the winner which is automatically determined by the respective smart contract based on the result of the match.
This feature extends to tournament organizers as they can also use Asura World to quickly and easily set-up tournaments albeit with a small hosting fee. Here, organizers can easily manage their tournaments including editing the format of the tournament as well as managing the prize pool among a whole list of extensive features.
Coins are spent for a multitude of things including betting and participating in tournaments but users also have the ability to earn ASA Coins by engaging and contributing positively to the platform. Aside from winning bets and tournaments, ASA Coins can be earned through things like creating useful content, gaining referrals, and interacting within the community—a clear sign of Asura World's focus on the platform's community.
The Asura Coin token sale
Asura Coin, who have just announced a very exciting partnership with China based Fujian eGaming Tournament Group, is holding a token sale for the ASA Coin, the platform's official utility token.
The ASA token sale is a real gem as all ASA Coin purchases made (with a minimum purchase of 1 NEO) before the 20th of June will be rewarded with a 10% bonus airdrop as a token of appreciation for the community's support.
For instance, purchasing 5000 ASA before the deadline will net contributors a bonus 500 ASA which will be deposited into the respective NEO wallets within 10 working days after the 30th of September.
Here are the details of the token sale:
Token name: ASA
Token base: NEO
Maximum token supply: 1,000,000,000
Token sale duration: June 2nd, 2018 – June 30th, 2018
Token sale target: $2,500,000 (soft cap) | $12,000,000 (hard cap)
Token exchange rate: 1 NEO = 5,000 ASA