STK, in conjunction with the STACK digital wallet, allows cryptocurrency holders to transact instantly through point of sale systems and enabling users to use cryptocurrencies as easily as cash.
This can happen because STK facilitates real-time cryptocurrency transactions at points of sale just like a debit card.
The main goal of the platform is to make cryptocurrencies more practical as well as enabling transactions that are fast, cost-effective, and borderless.
So, instead of just allowing users to perform crypto-crypto transactions, Stack allows businesses and users to perform fiat-crypto transactions.
Essentially, users can spend cryptocurrencies like cash but use STK tokens as the transaction currency instead.
With the integration of the STK token into the STACK digital wallet, you can use cryptocurrencies anywhere you want and at any point of sale globally.
We recently sat down with Miro Pavletic, the CEO of STK Network to have a chat with him about the project as well as finding out his thoughts and insights.
Hi, Miro. Thanks for joining us today. Can you tell us more about yourself and STK Network?
Thanks for speaking with us!
I started my career at Virgin Mobile, working with Richard Branson to launch the brand in Canada, and it was there that I really gained an appreciation for his consumer-champion focused approach to business.
Later, when I moved on to the financial services industry, I found a lot of gaps in the current market both in terms of traditional financial services and newer technologies including blockchain and cryptocurrency.
With the advancements in technology, specifically Financial Technology and the obvious appetite for cryptocurrency, it seemed like the right time for a bridge between the two. We created STACK and STK as a consumer-friendly alternative to traditional financial systems.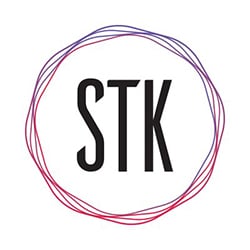 First off, why did you decide to use the blockchain in building STK Network?
What can the blockchain do those other technologies cannot?
Blockchain provides a lot of opportunities to reinvent the way we look at money. Its foundations of global accessibility, decentralization, and autonomy from localized markets and regulatory restrictions align with our vision for a universally inclusive approach to money — accessible to anyone, anywhere and in any currency. That kind of freedom isn't possible in traditional financial markets, yet.
Tell us about how you came up with the idea of STK Network.
Did you face a problem within the payments industry or do you think there is a gap in the market for STK Network to fill?
STK was a natural evolution of the STACK app. There are 22 trillion dollars per year being spent in the marketplace across the globe, but cryptocurrency transactions account for almost none of that spend.
Current crypto wallets don't have payment capabilities and even if they did, merchant acceptance of cryptocurrency at point-of-sale is virtually non-existent, which means you can't readily use your crypto wallet in retail or e-commerce.
This lack of liquidity means that mainstream adoption has been a challenge; most cryptocurrency activity happens outside of mainstream markets, which means there's a huge opportunity if we can create a seamless way to make instant cryptocurrency payments at the point of sale.
Editors Pick: STK Network ICO
Although cryptocurrencies have boomed in popularity this year, it has yet to gain enough traction to actually become a mainstream financial tool like real cash. The single biggest barrier to mainstream adoption of cryptocurrencies is accepting it as a payment option for everyday commerce. With an estimated $22 trillion consumer
0 comments
The most interesting part about STK is the state channels that you use for the platform.
Can you explain how state channels help customers to pay with cryptocurrencies in a way that a 10-year old can understand?
The Ethereum blockchain is an amazing thing – but – it's still too slow to support transactions in a retail environment. We need transactions to settle in milliseconds not 30 seconds or more. To solve this, we'll be using something called 'state channels' (sometimes referred to as 'payment channels'). If I had to explain state channels to a 10-year-old, I'd say this: Instead of going to your parents (the blockchain) every time you wanted to make a purchase, imagine you had a piggy bank with a set amount of money (the state channel) that your parents have already approved for you spend. Unlike your parents, which take time to decide or are busy doing other things, you can pull from your piggy bank instantly, without having to talk to your parents. Every once-in-a-while, the piggy bank will be reconciled and replenished by your parents (aka. the blockchain).
In other words – state channels are commonly used to ensure that a transaction between two parties on the blockchain will be successful. We will be using this technology to allow us to provide real-time execution of a payment to the merchant while allowing crypto wallet holders full control over their private keys.
We've outlined it thoroughly on our Medium page, here.
Is the STACK wallet similar to digital wallets like Apple Pay or Samsung pay but for cryptocurrencies instead?
Could you explain the benefits of using a dedicated wallet like STACK? Why do you think this is the right way forward in increasing adoption of cryptos?
STACK is the first digital money account combined with mobile Tap-To-Pay functionality. Apple Pay and Android Pay are both payment functions that require connectivity to a separate payment account. STACK acts both as the payment account and the payment function (Tap-To-Pay). So while we provide the same functionality as Apple Pay or Samsung Pay, we're much more than just transactional functionality. When you pay with STACK, using local currency or cryptocurrency, you get the same level of convenience plus all of the other benefits that are associated with STACK, like curated rewards, the ability to share your purchase story, and real-time notifications of what you're spending.
What is different between STK and other startups in the scene like Tokencard or Uquid?
STACK and STK together provide a much more dynamic solution than just a new token or single utility, which makes it hard to compare us to most others operating in just the cryptocurrency space. We're operating across cryptocurrency and traditional financial services markets — there aren't a lot of companies who are looking at financial services as ambitiously as we are.
If we look just at the STK token and utility, our partnership with STACK provides a series of advantages including access to a global point of sale network and working tap-to-pay functionality within the app. STACK is already in private Beta with over 20,000 members on a waiting list, scheduled to launch later this year, so we're much further along than others in the same space. We have a working prototype with mobile tap-to-pay enabled, which means we're not far from a public launch.
One unique aspect of STACK is the Financial IQ service. Can you explain more about Financial IQ does and how can it benefit users?
Something we've heard consistently is that consumers aren't getting enough help from their financial institutions when it comes to understanding their financial situations and how to reach their financial goals. We think there's a lot you can learn from your money with the right tools, so STACK lets you identify your goals and provides you with a series of insights and tools that help you reach them faster.
We are building out some cutting-edge machine learning / artificial intelligence algorithms to power these timely, relevant and useful tips.
Why did you make the choice to use the STK token as the backbone of STK Network?
Can you also explain more about the process of planning and designing the STK token to specifically fit in STK Network's ecosystem?
The STK token solves a major limitation of existing blockchain transactions. Currently, transactions on the blockchain do not settle in real time, therefore if you did a point of sale transaction at a retailer, using crypto, that transaction would fail, due to the lag time in the system. The STK token solves for this by opening up a real-time payment channel, allowing crypto transactions to settle near real-time and allowing retail transactions to happen.
What do you think is the biggest challenge or obstacle STK Network will face? How do you plan to tackle that challenge?
Cryptocurrency as an industry is in its infancy but the barriers to entry are complex. Without a solid understanding of the premise of blockchain or the platforms on which cryptocurrencies are bought and/or exchanged, it can be difficult to enter the marketplace and even harder to transact in it. STK was created to solve that problem, which will be a big step forward for the industry and will reduce the barriers to entry by simplifying the process from start to finish and integrating it with traditional systems and services.
We're also focused on more than just the technology, we put a huge emphasis on user experience. STK and STACK use a consumer-first approach to all of our services to create easy-to-use and innovative solutions that solve real-world issues.
Moving on to more personal stuff, what does a typical day in your life look like?
I'm an early riser. My day usually starts at 5 am, as I like to be the first in the office. I tend to get a lot of work done in the first couple hours of the day, while others are usually just getting up and getting ready. We have an open office space which allows for a lot of collaboration and real-time meetings throughout the day. My team is my number 1 priority and I make sure we are in constant communication to ensure we can execute our goals. Meetings are happening all the time and I like to be involved in every step of the process, not just to oversee, but also to provide guidance and learning all the way through. The highlight of my day is seeing my 3 children in the evening and spending time with them.
Can you express one personal opinion of yours about the blockchain? It doesn't matter if it's negative or positive, we just want to hear your thoughts on it.
A big part of what we're building with STACK and STK is a universally inclusive approach to money. More than 2 billion people around the world don't have a bank account and those that do often face punitive penalties, exorbitant fees and restrictive access to their own accounts. Cryptocurrency, or more specifically, the blockchain is unique in its global accessibility, decentralization, and autonomy from localized markets and foreign exchange rates. I think a lot of the key values around blockchain and cryptocurrency tie in with our vision of equal access to money regardless of country or currency, and free of unnecessary fees, charges or restrictions.
Finally, what other personal goals (besides your career) do you have in life? Is there anything else in life you want to achieve?
My personal goal is to empower my children, throughout their lives, to discover all aspects of the world while empowering those in need. I want to provide them with the building blocks to become entrepreneurs, building creative solutions for challenging problems. And the optimism to try things, instead of finding excuses as to why they shouldn't. I also want to teach them not to put empty cookie packages back in the pantry.
That concludes our Interview with Miro Pavletic
More Interviews to come
We'll be scheduling even more exclusive interviews like this in the coming weeks to delve into the minds of what makes a blockchain startup tick as well asking the questions you want to know the most.
To make sure you don't miss out on our exclusive interviews, go ahead and sign-up to our mailing list and subscribe to our social media channels.
Get in touch to let us know who you want us to interview as well as the questions you want us to ask.
You'll get notifications on the latest exclusive articles as soon as they appear on our website – we won't and will never spam you.