Streamity is a new entrant into the decentralized exchange space.The service will create a new ERC-20 token to facilitate the cheap, decentralized and more secure transfers between all types of fiat and cryptocurrencies globally.
According to MIT, centralized exchanges are themselves a blowback to a different concept of "currency." They are also antithetical to the idea of a decentralized, global, currency market.
Streamity, in fact, is on the verge of a new wave in currency development and exchange. They are also setting up their platform to work as a kind of "payment processor" for those who need to make payments or exchanges in any kind of currency – fiat or cyber. In doing so, they lower the costs of exchange. They also are able to give users instant access to the best global rates of exchange for all currencies at the time of money transfer.
We recently sat down with Vladislav Kuznetzov, the CEO of Streamity to have a chat with him about the project as well as finding out his thoughts and insights.
Hi, Vlad. Thanks for joining us today. Can you tell us more about yourself and Streamity?
I decided to create StreamDesk in response to the huge market problem that exists in the global crypto-currency market. In most countries of the world, people have no opportunity to convert crypto-currencies into traditional money quickly and conveniently. Although platforms for currency exchange exist, most of them are not large-scaled enough, they offer simplified technical solutions that lack security, and they are difficult to use. I've been in business for more than 10 years and I realize that my hour has come.
Streamity is not only an exchange platform, it is a huge ecosystem, led by a STM token
I selected the best people for the Streamity team. These guys worked in well-known companies and everyone has succeeded in their business. Such people will only follow a real leader, and I do not doubt our success!
First off, why did you decide to use Ethereum blockchain in building Streamity? What was your thought process behind it?
We use Ethereum blockchain because we believe in its reliability and scalability, our programmers know Solidity in perfection, well, also, of course, I trust statistics. Open the site: The Enterprise Ethereum Alliance and see what companies are in the alliance – I trust the well-known brands! Ethereum will definitely continue to develop.
What do you think is the biggest problem Streamity will solve and why is the problem important to solve?
The main problem that Streamity can solve is the problem of exchanging cryptocurrency for fiat money and vice versa. Now the market is very fraudulent, there are overvalued rates and high commission fees. In order to develop cryptocurrency market more rapidly and reach new heights, it is necessary to solve this problem.
Your KYC is based on fairly conventional "ID checks" like passport, bank account, and utility bill provision. Is there a time that you see this might change (i.e. you will use a different form of identity verification that is based on crypto identification?)
We are already negotiating with CIVIC on this issue and it will be incredibly convenient to use our service with digital identification! I think it will happen very soon.
In the whitepaper, you talk quite a bit about the rise of decentralized exchanges – and your market position already with regards to emerging competition. What is it that really distinguishes you from a) traditional exchanges b) the newer entrants in the decentralized exchange space?
Our service is unique. Yet no company has integrated smart contracts and API payment systems. It allows you to work with minimal commissions and above all provides absolute security for users, which is one of our main goals.
Regulation-wise, you are clearly setting up your service to market first to the developed western economies (i.e. places where a bank account is relatively easy to obtain). But what about customers in economies that are still largely unbanked (i.e. see Africa?) How do you intend to provide KYC provisions for those customers – potentially the largest market already in sum for your services?
As I said, we will soon launch a digital identification service and then we will be able to solve this problem.
Editors Pick: Streamity ICO
Decentralized cryptocurrency exchanges are on the rise after the well-publicized hacks of centralized trading platforms. The growth of the cryptocurrency market is one thing. Last year the industry grew exponentially and this year, it is expected that the market overall will reach new heights. New currencies are being introduced daily.
0 comments
Let's talk about your ideal customer. Is it a gig economy worker with multiple clients who pay him or her in different currencies? Is it a company with multiple employees in several countries? You mention the concept of "payment processor" but in reality, in just a few years, many people will have to manage not only multiple cryptocurrencies but integrate their fiat currency into the same. Talk a bit about this and how you see your "ideal" customer, and what they need already and will need in the short term future.
We are focused on the P2P exchange, which means that our ideal client is absolutely anyone with any possibilities. I hope that in the future, the world will finally give up fiat money and we will be able to plunge fully into the digital world, where all payments will be comfortable and transparent, there will be no inflated prices and hype, bubbles and scammers. Where we could pay easily and simply in an unmanned taxi, transferring cryptocurrency to the purse of the program that manages the car.
What has been your happiest moment so far working on Streamity? On the flipside, what has been the most painful, or perhaps the most regretful decision you've made with Streamity?
The happiest moment was when I realized that I can create something that is truly worthwhile, that it is possible to change the world and make it easier and safer!
So far, fortunately, I have not made any sad decisions; everything is going smoothly according to my plan.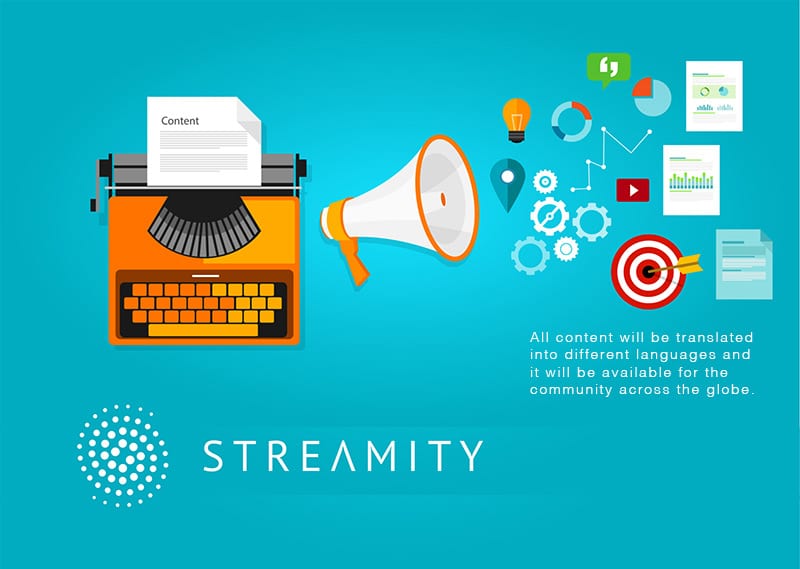 Is Streamity already working with notable businesses or firms? Are there any future partnerships in process? If yes, can you explain briefly about it?
We conclude agreements with payment systems. We will integrate each payment system separately into our service. This is rather a long and complicated procedure, but when we connect a sufficient number of payment systems, the service will be fully automatic. I hope that PayPal will be among our partners. After all, this company is my personal role model. I'm a fan of Elon Mask and everything that he creates. This is a great man who has already changed the world and he will do much more, I am sure! At the moment, I'm not ready to disclose with whom we have already concluded contracts, we will report this a little later.
Tell us more about the STM token. What is its function on the platform and what can token-holders expect from it in the future?
Streamity is not only an exchange platform, it is a huge ecosystem, led by an STM token. Streamity services include news and analysis, investment, and educational resources, each existing as an independent business environment. We are creating an attractive and powerful portal in the area of cryptocurrencies and blockchain technology, which will integrate news, ideas, high-quality analysis in one personal account, unique training courses created by experts in various fields, algorithms and ready-made solutions for trading, a number of forums with token remuneration, user-friendly interface, and timely data submission. All of this will involve blockchain technology and artificial intelligence. In the ecosystem, there will be a constant turnover of the STM token and with the development of services, the token will become more and more in demand.
What do you think is the biggest challenge or obstacle Streamity will face? How do you plan to tackle that challenge?
At this stage, Streamity does not have any big and unsolvable problems, we solve any problems that arise on our way and plan to do the same in the future.
Moving on to more personal stuff, what does a typical day in your life look like?
I can not imagine my life without interesting work and new discoveries, sometimes it seems to me that I will never retire: after all, even when I am on leave for more than 1 week, I'm already starting to miss my business! Now my usual day is about working 18 hours a day. ICO is not a simple job as many people might think. ICO requires the full attention to the project and team as there is a huge responsibility.
Can you express one personal opinion of yours about the blockchain? It doesn't matter if it's negative or positive, we just want to hear your thoughts on it.
Blockchain changed my life, my world and the world for many people. This is the technology of the future. But I do not believe in Bitcoin as a means of payment! I believe in smart contracts, Vitalik Buterin's Ethereum and in https://entethalliance.org. Bitcoin was created to show the whole world what money could be, but it is easy to create a cryptocurrency in its likeness. Then what is the point in supporting it and keeping it in circulation? It is more profitable for any state to create its Bitcoin and implement it in its jurisdiction. However, it is only my opinion.
Finally, what other personal goals (besides your career) do you have in life? Is there anything else in life you want to achieve?
Of course! I always dream about something, and then turn those dreams into goals and fulfill them. There are so many goals in my life. Now, for example, my goal – to move to Singapore, it is one of the reasons why I registered my company there. I love this country!
That concludes our Interview with Vladislav Kuznetsov
More Interviews to come
We'll be scheduling even more exclusive interviews like this in the coming weeks to delve into the minds of what makes a blockchain startup tick as well asking the questions you want to know the most.

To make sure you don't miss out on our exclusive interviews, go ahead and sign-up to our mailing list and subscribe to our social media channels.
Get in touch to let us know who you want us to interview as well as the questions you want us to ask. You'll get notifications on the latest exclusive articles as soon as they appear on our website – we won't and will never spam you.