Blockchain first upended traditional finance in developed economies. Now it is beginning to reach out, beyond the "first-world" to have an impact globally.
Where is that having an impact first? Basic banking services. Close to 70% of the U.S. population cannot get credit and just under half cannot get a loan on decent terms. When someone cannot even get access to a bank account however, other "normal" transactions of every-day life become next to impossible. Things like paying bills online, participating in e-commerce, unable to rent cars or hotel rooms not to mention building a credit rating are all out of reach. Forget loans, even of the micro kind.
Enter Uulala. The elevator pitch is that this company, founded by first and second generation Latino to the U.S., aims to facilitate the money transfer between people in the United States and relatives "back home" – starting with those south of the Rio Grande. In doing so, recipients not only gain access to much cheaper money transfer, but a range of banking services in which other ways would be unreachable.
Here is how it works: People in the U.S and Puerto Rico can send money to their relatives in Latin America – as little as $2 per month. They can also use the platform to pay bills for recipients. Recipients in other countries can also use their wallet to establish a mobile banking and payment presence. This includes having access to pay-as-you-go MasterCard purchasing networks, and even online B2B banking services.
We recently sat down with Oscar Garcia, the CEO of Uulala to have a chat with him about the project as well as finding out his thoughts and insights.
Hi Oscar. Thanks for joining us today. Can you tell us more about yourself and Uulala?
I'm a first-generation Latino, born and raised in Los Angeles. At an early age, I was very disciplined and driven, training for the try-outs with the Olympic diving team. I had an unfortunate injury, but my competitive spirit only grew where I and transitioned from athletics to business. At age 18, I was fortunate enough to be mentored by a formidable businessman who was the founder of the fastest growing company listed in Inc 500 for 1993, 1994 and 1995.
With my team, I launched Uulala in 2016. We are mission-driven organization focused on facilitating and accelerating the financial inclusion of the under-banked and unbanked population starting with the US Hispanic market and Mexico.
It is clear you are a company on a singular mission – to provide banking services for the unbanked. But apart from a Latino heritage, what specifically motivates the team every day?
As a minority-owned company, the majority of Uulala's staff and many of our shareholders, are first or second generation Latinos. We come from humble beginnings so we understand the value of money and a hard day's work.
Many of the unbanked are poor – 56% earn less than $15,000 annually." Banks shouldn't 'kick-them-while-they're down." Cashing a check at an institution typically costs around $6US. Securing an apartment usually requires a costly money order. Overdrafts, cash loans and remittances charge sky-high fees and interest. We should be making banking easier for the people who are most at risk, not taking advantage of them. The promise we make to our users. Uulala will always be safe, transparent, and accessible.
How did you come up with the idea and what was the thought process behind it?
As a young boy, I remember standing in the cash-checking line with my mom when she got paid. After paying all the bills, there was never extra money for any frivolous purchases and hardly enough for bread and milk. It made me angry that from my mom's small check, more was taken from her to provide for her family.
Today, we know that many banks have taken advantage of minorities and in the process over-charged them banking fees. We also know they are least likely to get the loans they need to expand their business.
Hispanics alone in the US, represent a $2 trillion economy and collectively 17% of the total US population. It continues to be an underserved market and we want to change that.
What is the biggest problem within the industry or do you think there is a gap in the market for Uulala to fill?
On the service side in the remittance space, only 7% of all transactions are done digitally. Today, brick and mortar based cash businesses account for 47% of all remittances according to Remittance Price Worldwide's report. With US Hispanics and Latin Americans being super mobile consumers, this number is likely to reduce significantly with the proliferation of smartphones that make online transfers more convenient. This driving shift presents a business as well as a technological challenge for existing companies which require a robust technology platform that can support both traditional and newer modes of servicing customers. This market gap is where the hybrid model of Uulala will meet the consumer demand for instant mobile remittance combined with the flexibility of thousands of loading stations through our Power User program within the regional transfer corridor all at affordable price points.
With regard to helping the unbanked, we are doing lousy job-creating opportunities to help the unbanked build credit. Uulala will help change that through our microcredit offers and ledger system.
What do you think is the biggest problem Uulala will solve and why is the problem important to solve? Beyond "banking services for the unbanked" – or even "Spanish-speaking underbanked."
In phase 1 of our business, we will decentralize ATMs and bank branches by allowing our users to become a peer to peer loading stations. In any medium-sized city, the number of individuals who can load money for others far outnumbers the number of ATMs and bank branches.
I also believe we're in a position to build a database that shows the spending habits and financial capabilities for the Latino market from the US to Mexico. Although some attempts have been made, the data is at a high level and does not adequately capture the day to day financial transactions needed to understand spending habits and critical decision-making statistics for the fastest growing segment of the US population.
What are the KYC issues you face and how are you planning on addressing them, particularly on the "underbanked" side of things?
The main issue when dealing with an underbanked population is collecting the appropriate information and documentation (valid ID, address, email address…). Most, if not all, will be able to provide enough information to get them started with a very small account, giving them the ability to transact with a limited amount of money. In the case of not being able to collect much information, users can be limited to 10's of dollars, i.e. enough to top of a pre-paid phone account, or a couple of hundred dollars, i.e. enough to pay a couple of bills or remit a small amount of money to a family member. As users get more comfortable and wish to transact more money through the system, we can simply and elegantly step them through a process to collect more information. As they get more comfortable with the platform, and we collect more information, more doors open up to them in terms of services, allowable monetary amounts, etc. In summary, with limited information (e.g. a valid government ID) we start them out with a very small account, and as they express interest in using the platform for other services, we educate them and step them through a simple process of providing additional information (e.g. social security number/tax I.D., biometric data) that brings them even further into the formal economy.
In the whitepaper, you talk about the "value" of international money transfer between families as opposed to government aid. This is an interesting angle to explore, particularly because you can cut out all the red tape. Do you expect this kind platform to be the vanguard of a new age of "international foreign development aid" – albeit peer-to-peer? What do you think the impact of this could be on super big problems? Like global warming for example?
The US to Mexico remittance corridor represents over $25 Billion annually which carries a higher value than oil exports from Mexico. This market with its significant financial footprint continues to be under-served.
With the proliferation of smartphones, there is no good reason why we can't better service customer demand affordable remittances services through technology. Our strategy of building a robust technological platform with a focus on remittances, bill pay and micro-credit offers for the user, is a vanguard and disruptive approach as it's comprehensive in scope. Giving our users all those features, combined with the flexibility of thousands of loading stations through our peer-to-peer network, gives our user the ability to move their money quickly and efficiently while building their credit history.
I believe there will be many residual effects of the success of our platform. Users will save money and this will allow them to invest in other things like their well-being, education and businesses; users will travel less to conduct financial transactions which will reduce greenhouse gas emissions; blockchain technology will safeguard the users' assets thereby reducing digital theft and hacks. The other big opportunity is that our platform will give us a large database to mine and provide us with in-depth analytics on the Latino consumer.
Regulation-wise, what are the toughest challenges you will have to overcome? KYC is an obvious one. But anything else?
In terms of regulations, the area that seems to take the most time and resources is securing Money Service Business (MSB) licenses through the United States; Each state requires a separate application process, each has distinct rules, and each requires a separate monetary payment and/or reserve to be put in place. And then finally, once all applications and monetary deposits have been made, the timetables for review and issuance are out of your control. This is perhaps why there has been a push for a nationwide FinTech charter/license that would allow financial technology companies, who don't represent themselves as being a bank, to obtain a meaningful regulatory vehicle that would allow them to go to market using a more streamlined, yet still compliant, program.
Editors Pick: Uulala ICO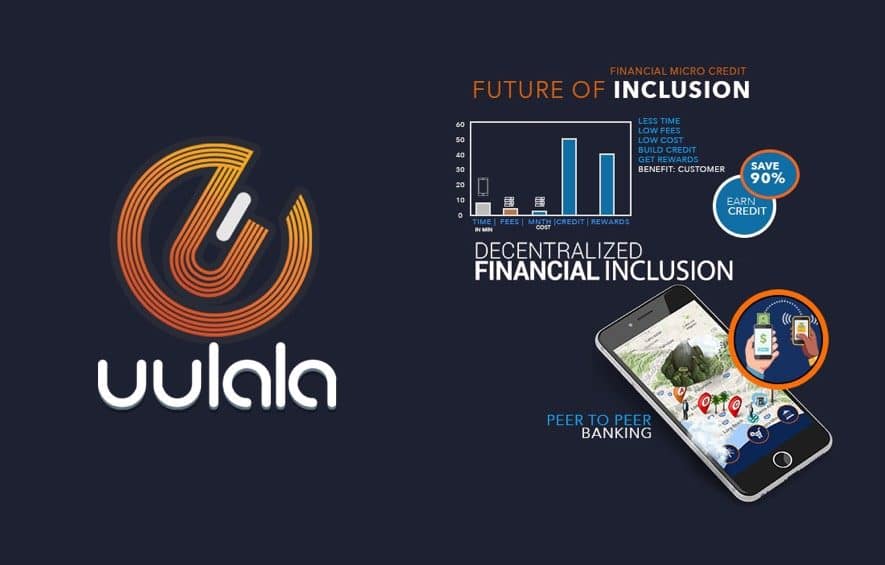 The disintermediation of banks and other traditional financial services via blockchain has huge possibilities in providing FinTech services to the un and underbanked, particularly in still-developing economies.. Even in one of the richest economies on the planet – the U.S. – 46% of the population cannot obtain a loan on
0 comments
What are the services you plan to offer that excite you the most?
Well you know the service as a whole excites me the most if just offer one service and not the other your only a band-aid to the problem. There are plenty of remittance companies and plenty of bill pay companies out there, there's plenty of microcredit companies out there but no one has put them all together, no one is building a platform a marketplace where you can actually gamify an entire process of paying your bills sending money and getting rewarded for it. So, for us it's not really what service excites me the most is that the platform that is uniting all services as one like how the smartphone united GPS, phones, cameras and computers all into one item and more we are uniting all financial products into one platform that's easy simple to understand and empowers the user.
What has been your happiest moment so far working on Uulala?
On the flipside, what has been the most painful, or perhaps the most regretful decision you've made with Uulala?
It's really having the privilege and the pride to represent the Latin culture around the nation going to Puerto Rico and Dallas being able to speak at NASDAQ. Even shutting down Times Square to be featured on the NASDAQ jumbotron was an amazing experience and scenario. But are we done? Absolutely not! I think the happiest moments are yet to come, feeling that we accomplished a Google-like company for the Latino culture it will be one of the happiest moments of my life.
You know you always regret a lot of things when you're starting a business but the most regretful is the wrong partners, the wrong providers, hurt the wrong people and your team is more detrimental than anything else. So if there's any advice I can give people is to get the wrong people out of your life get the negative people out of your life as fast as possible and replace them with someone positive replace them with someone willing. If you would just do that one little fire, you may have to fire your family member, your boyfriend, whoever that negative person is your life get them the hell away from you as quickly as possible because you have cancer and you must cut that out.
Why did you decide to go the route of an ICO?
Great question, as a business owner of a scalable startup you always look for ways to create a user base, a community of adopters as well as ways of raising funds. A public crowdsale via an ICO was the mechanism of choice for Uulala based on our use of blockchain being intertwined with the core of our financial services platform and the creation of the UULA token. The crowdsale is allowing us to reach participants around the world who have provided channels for future partnership for the platform itself which would not have happened if we went the traditional VC route.
Tell us more about the UULA token.
What are its selling points and what does it do in the system?
The UULA, or the Uulala token is the key to our decentralized peer to peer loading of cash into the digital economy. The token is the conduit for our users to connect with trusted community leaders and individuals to load cash into our ecosystem through our peer to peer network. The token also allows our merchants to create microcredit offers to our user base where the repayment of these microcredit lines are recorded on the blockchain and are used to kickstart someone's credit scoring.
What do you think is the biggest challenge or obstacle Uulala will face? How do you plan to tackle that challenge?
The biggest challenge we face is making sure the potential users get "on boarded" by somebody they trust. Therefore we have identified thousands of insurance agencies, income tax offices, and immigration offices in the Latino communities that can help us "onboard" all these clients for the thousands of customers they service daily, We will be offered as a means of saving money on financial fees. We will also be launching the Uulala Marketplace", a platform dedicated to targeted businesses like "Mercaditos" (Small Latino Markets) in the West to "Bodegas" (Small Markets) in the East of the U.S.
This strategic business combination will prove to be one of our biggest differentiators, most lesser financial Latino products in the past have relied on Digital Kiosks in high traffic areas alone. While we will be offering this option as well, we know that the Latino community trust those that help them with their insurance necessities, handle their taxes and aid with their immigration paperwork, at times all three things are handled by the same "MultiServicios" office.
Moving on to more personal stuff, what does a typical day in your life look like?
A typical day in my life is sometimes I don't even know where I'm landing. So a typical day in my life is having my executive assistant text message me my schedule and me going "ohh shit I forgot that I had that meeting". Then it's a matter of running down to where ever I need to go to have those meetings, fulfill those meetings and see if we can have some partnerships and actually get back to computer programming animation. So really a day in my life, is always solving problems and getting verification of where I have to be, so I can solve more problems. I'm basically a fireman.
Can you express one personal opinion of yours about the blockchain? It doesn't matter if it's negative or positive, we just want to hear your thoughts on it.
Blockchain technology can solve a lot of problems but it must be used the right way. There are too many people that are just saying blockchain this and blockchain that and they're really creating chaos and misunderstandings. I think blockchain technology can be leveraged it for the immutability elements. The concept of verifying that something happened without a doubt. That will always lead to better systems and better mechanisms, so you can prove your point with everyone. But we must get away from the far left, the far right. People who are putting on unicorn outfits and coming down on stage and yelling out blockchain. I don't know what the hell is on their mind their causing more harm than good lets build technology not a hype.
What's something that you believed to be true for a long time until you found out that you were wrong, or if you don't like that dichotomy of right versus wrong, what's something significant that you really changed your mind about over time?
I believe that the way to get to people's hearts was just through music, it was just what they did for entertainment I was wrong. Now I see that what people want is respect, what people who serve others want is to belong. They want to believe that you care about them, they want to believe that you're not just a company that wants them to use your services but your company gives a shit and that's what's more important. If you build your company with the right ethical compass and moral foundation to empower individuals who feel cast aside as you will create tangible long-term value through customer experience.
Finally, what other personal goals (besides your career) do you have in life? Is there anything else in life you want to achieve?
I don't know how people can ask that question I believe you can have a love for what you do and I believe you can love someone else in my personal life. Work-life balance just means being happy if you can find happiness by doing what you love you'll never work in your life. Many people have said that but I don't think many people have qualified it by saying that I am the actions that I do. That means I love what I do, I love to design, I love to empower people, I love to find solutions and I do that in my personal life too I find solutions and I find what I love it's the same thing.
That concludes our Interview with Oscar Garcia
More Interviews to come
We'll be scheduling even more exclusive interviews like this in the coming weeks to delve into the minds of what makes a blockchain startup tick as well asking the questions you want to know the most.
To make sure you don't miss out on our exclusive interviews, go ahead and sign-up to our mailing list and subscribe to our social media channels.
Get in touch to let us know who you want us to interview as well as the questions you want us to ask.
You'll get notifications on the latest exclusive articles as soon as they appear on our website – we won't and will never spam you.