The Codex Protocol aims to overcome the problems affecting the arts and collectibles asset class by providing a decentralized registry that stores vital information for each item by using the Ethereum blockchain.
Verifying and confirming provenance will no longer be a challenge for the growing industry with the adoption of a decentralized registry, with new avenues for use of cryptocurrencies and blockchain in arts and collectibles now available.
The project is supported by an industry consortium representing over 5,000 auction houses across more than 50 countries that help advance the adoption of the Codex Protocol.
Expect to see the Codex Protocol become the industry standard, both because of its consortium and because of the strong team behind the project.
We recently sat down with the company's CEO, Mark Lurie, to have a chat with him about the project as well as learning more about his thoughts and insights.
Hello there, Mark! Thanks for joining us today. Can you tell us more about Codex Protocol?
Thanks for having me! Codex is a decentralized registry of unique assets like art, fine wines, watches and more. With Codex, you can use cryptocurrency to buy $6 billion of art and collectibles today, and plug into a growing ecosystem of third-party services.
Tell us about how you came up with the idea of Codex Protocol.
Did you personally face a problem within the industry or do you think there is a gap in the market for Codex Protocol to fill?
I previously founded and sold an online marketplace for art and collectibles, which is how I know first-hand the opportunity that exists in this market. Provenance has always been important in the arts and collectibles (A&C) asset class, but the most challenging problem to solve because no central authority has been trusted with this information. The ownership and authenticity of unique assets are a perfect use case for blockchain, as the market can be transformed with trusted information while maintaining the desired privacy and authenticity required.
What do you think is the biggest problem Codex Protocol will solve and why is it important to solve?
Solving the provenance problem for the market means that the record of ownership, transaction history, insurance, loans, appraisals, artist verifications, shipping information, and more can all can be stored in a trusted way. This opens up opportunities for collectors, investors, artists stakeholders across the industry to expand the market in new and creative ways. At Codex Protocol, we've built an industry consortium and have partnered with incredible companies like asset-backed lenders, insurers, and more to build upon our open-source technology (https://github.com/codex-protocol).
A huge concern mentioned in the whitepaper is the reluctance of individuals in implementing a central registry in regards to unique assets. Why is this such a huge problem in this particular industry?
What effects do you think a decentralized registry would have in alleviating this problem and has there been any early feedback so far from the aforementioned concerned individuals?
Centralized efforts have failed in the past because collectors are unwilling to trust a central entity with information about their valuable possessions and intermediaries are unwilling to risk disintermediation. The advent of the blockchain enables a decentralized solution, which makes it possible to store information about possessions without compromising the privacy of collectors. This means that stakeholders will accept the registry.
Community feedback is incredibly important to Codex Protocol. We listen carefully on Telegram (http://t.me/codexprotocol) and have launched reward programs for early adopters. With an industry consortium representing over 5,000 auction houses, adoption of the Codex Protocol occurs as unique assets are purchased through these platforms. The response to our first beta apps, Biddable and Codex Viewer, has been incredible. Over the past week, we've been thrilled to see tweets of our communities first Codex Records.
Tell us more about Biddable. Where did the inspiration for the project come from and what was the process like in presenting Biddable to interested companies?
Is it a standalone application or is more like an API for companies to integrate into their systems? Are there any upcoming applications or projects like this that we can expect to see from the team?
Biddable and is the first beta app built on top of the Codex. It that enables easy auction registration with 100% chance of approval and no fiat required. With Biddable, cryptocurrency can be used to take home fine antiques, art, and collectibles to diversify wealth with unique assets.
Biddable can be both a standalone application and an API, but is most frequently used today as an API. That means other companies embed Biddable into their existing software, kind of like PayPal. For example, Liveauctioneers has already integrated it.
Auction houses are eager to use Biddable because it makes international registration and payments easier, helps to prevent loss of revenue from reneging bidders, and opens up a new market of crypto-wealthy buyers. Biddable is also accelerating adoption of the Codex decentralized registry. Already, we are integrating into the software used to sell 10 million + items annually worth over $6 Billion. The Codex Protocol will quickly become the standard as Codex Records are created for these pieces.
Along with our community, we will develop more apps on top of the Codex and look forward to their announcements.
Editors Pick: Codex Protocol ICO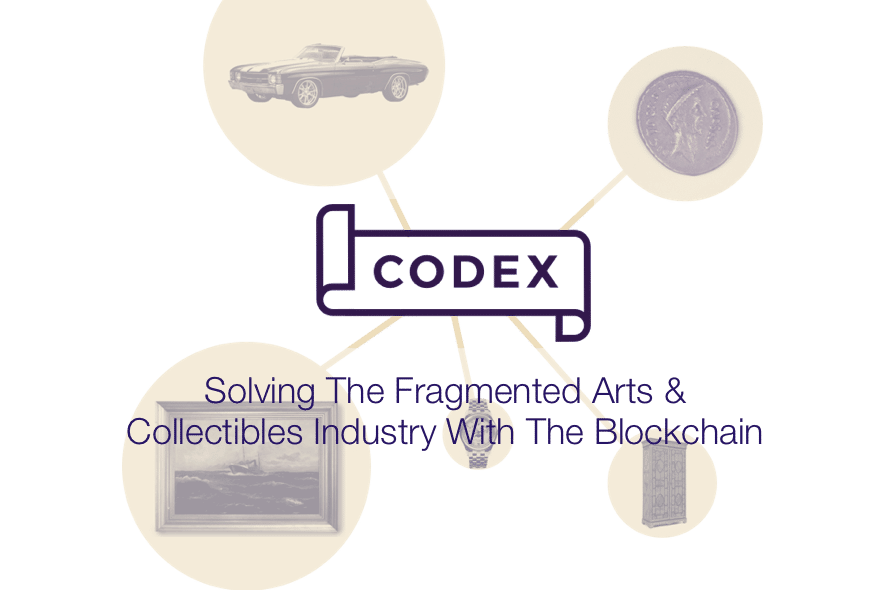 The meteoric rise of the blockchain in the past year and a half has been nothing short of remarkable considering the fact that the technology is barely a decade old. From being just a theory, the blockchain has gone through leaps and bounds to where it is today where it's
0 comments
Some other problems in auctioning include buyers flaking out after bidding as well as intentionally bidding to manipulate the prices of items.
Are there any features in the Codex Protocol to address these problems or is the team focusing on the registry first before moving on to other problems?
Biddable addresses the reneging problem within auction houses by requiring an initial deposit will in a major and highly liquid cryptocurrency like Ether (CodexCoin will also be accepted). If a bidder does not win anything, each party's escrow will be released back. In the case of a winning bid, the escrow is locked until the bidder pays for their items, either in cryptocurrency with Biddable, or as normal in fiat. Winning bidders that did not register via Biddable can still use it to pay for their winnings using cryptocurrency.
Biddable is already live and in use. Our registry is coming next.
The use of Validators in verifying provenance is a good move in ensuring all data is accurate but there is also a risk of the Validators being dishonest or inefficient, leading to compromised data.
Are there any processes in the Codex Protocol that stop these situations from happening? What other technologies are used to help verify data other than Validators?
The Codex Protocol's validation network incentivizes them through rewards and ensures the integrity of the protocol. It. At first, the validators themselves and the rewards they receive for their activities will be decided on a discretionary basis. Over time, we anticipate rewards will be algorithmically distributed along with a reputation system. The CodexCoin (CODX) ensures enforcement of proper behavior by validators and applications by requiring them to stake.
We expect the governance system to be based on both stake and behaviors on the network, with limits to constrain any individual from exercising majority control. The CodexCoin token will be critical in enabling this decentralization of governance as a measure of a stake for voting.
We'll have a registry of authorities that have been recognized by the community with verified addresses. For example, address 0xA1 could be Sotheby's. So any Codex Record that passes was created by/modified by/transferred by that address will come with high confidence that the piece is authentic.
Is there a possibility that the Codex Protocol could expand to other industries e.g in the supply chain for fresh produce or in the transport industry?
Could you share with us on the future products or services that the Codex Protocol is planning to introduce in the future?
The Arts & Collectibles asset class is where we are starting, but we see opportunities for decentralized registries in other industries and will certainly consider expanding outside of A&C. This could include luxury goods, industrial equipment, and digital assets. For now, though, A&C is estimated as a USD 2 trillion asset class and is forecasted to grow significantly, which seems likely with art and technology more in-sync than ever before. We see an exceptional opportunity for transformation with unique asset distribution and management.
While working on the project, what's something that you believed to be true for a long time until you found out that you were wrong, or if you don't like the dichotomy of right versus wrong, what's something significant that you have really changed your mind about over time?
More than ever before, I've realized the importance of explaining the benefits of a new technology rather than the technology itself. Blockchain is the hot new buzzword, but its complex and it confuses a lot of people. I've really had to focus on explaining the benefits that a title registry would create for the market, rather than focusing on the game-changing nature of the technology itself.
What is the current progress on Codex Protocol's partners?
Are there any interesting partnerships that the team is working on?
Codex has announced key partners joining the Codex Ecosystem — a group of major A&C stakeholders spanning the complete spectrum of all industry partners, including collectors, auctioneers, dealers, museums, and other organizations vetted by existing members.
Our latest partners include Heffel Fine Art Auction House, Feral Horses for creative investing, Luxury Asset Capital for asset-backed lending, ValueMyStuff for appraisals, Dust Identity for linking physical items to digital records, and The Clarion List for finding trusted service providers. LiveAuctioneers and AuctionMobility are early notable partners of Codex. Through interactions with pieces on the protocol holding the Codex Record, members will utilize or write on the title registry, each time contributing to the pieces' provenance.
What do you think is the biggest challenge or obstacle Codex Protocol will face? How do you plan to tackle that challenge?
Our challenges are likely similar to any ICO; cutting through the noise and taking a journey down a path that is pretty new. There is strong interest in cryptocurrency, but there are still a lot of unknowns in the space.
By listening to our community and our consortium of industry stakeholders, we will navigate these challenges together and feel we are in a strong position to tackle any uncertainties because of this. With a technology like Codex that empowers the industry for shared benefits, there are the right kinds of incentives to participate in the Codex Protocol.
Moving on to more personal stuff, what does a typical day in your life look like?
As you can imagine, launching Codex this past year has taken up a majority of most typical days. Aside from building companies, I like reading about economics, hiking, early American transcendentalist writers (I collect early editions of their works), and have a Bernedoodle puppy.
Can you express one personal opinion of yours about the blockchain? It doesn't matter if it's negative or positive, we just want to hear your thoughts on it.
Blockchain is a truly transformative technology. Over decades, I think it will change the way governments work, make borders matter less, and force central banks to manage their money supply more responsibly. Napster and music file-sharing had a similar effect on the music industry. Over time, the music industry adapted to new realities and embraced streaming music. I think blockchain will have a similar effect on governments and other markets in the long run.
Finally, what other personal goals (besides your career) do you have in life? Is there anything else in life you want to achieve?
I would like to hike a snow-capped mountain on every continent!
That concludes our Interview with Mark Lurie
More Interviews to come
We'll be scheduling even more exclusive interviews like this in the coming weeks to delve into the minds of what makes a blockchain startup tick as well asking the questions you want to know the most.
To make sure you don't miss out on our exclusive interviews, go ahead and sign-up to our mailing list and subscribe to our social media channels.
Get in touch to let us know who you want us to interview as well as the questions you want us to ask.
You'll get notifications on the latest exclusive articles as soon as they appear on our website – we won't and will never spam you.