Leading digital goods company is extending its marketplace onto the blockchain — and incentivizing publishers to follow suit.
Following an oversubscribed and successful pre-ICO last month, Gameflip, the veteran Silicon Valley gaming marketplace, has officially launched its highly-anticipated ICO. Crypto and global media have been buzzing about Gameflip, which has been highlighted as a prime example of a successful Silicon Valley startup turned ICO.
Gameflip's digital goods marketplace has 2+ million gamers with millions of USD in transactions each month. With FLIP, its digital token and ecosystem, Gameflip is extending its proven marketplace onto the blockchain — creating significant value for gamers and game publishers.
TOKEN SALE DETAILS
The Gameflip ICO is now live and will run through January 29, 2018, accepting ETH contributions. Given the early pre-sale success, the ICO has a targeted goal of 15,000 ETH for the duration of the sale, with a trigger to end the sale 72 hours after reaching 30,000 ETH.
Minimum contributions for the campaign will be 0.1 ETH with no maximum purchase amount. Bonuses will start at 25% and stagger down to 15% and 10% for later contributions, incentivizing early FLIP supporters to invest earlier in the ICO.
One way Gameflip stand out from other ICOs is with its focus on game publishers. Gameflip has reserved 40% of the total supply of FLIPs to incentivize publishers by allowing them to sell these FLIPs to their community and keep up to 100% of the proceeds. Gamers will also be incentivized by having access to a liquid marketplace that is safe, transparent and reliable.
Editors Pick: Upcoming ICO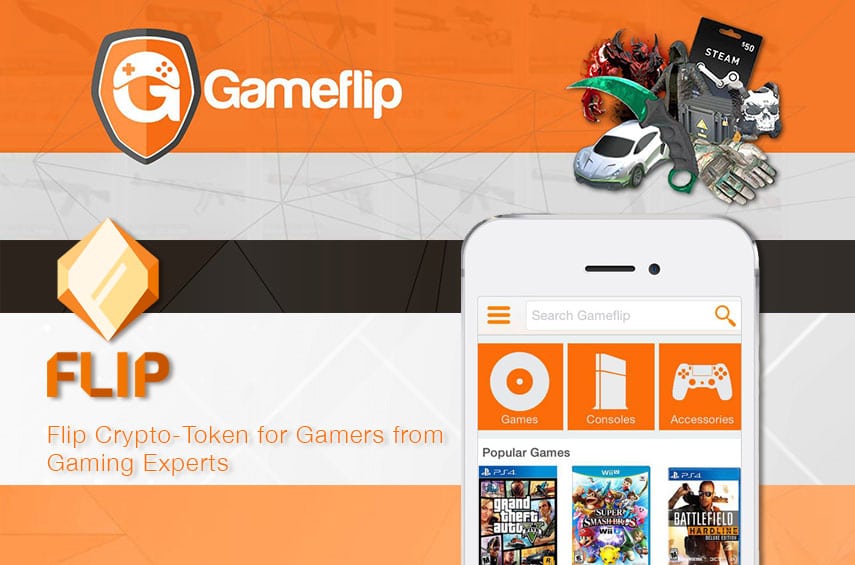 The gaming industry is growing exponentially every year with no signs of slowing down. In 2017, experts suggest that over $100 billion will be generated from gaming revenue alone with that number expected to rise by more than 20% in the coming years. One of the driving factors in the
0 comments
"Publishers are the key to success in this market. Our competitors are trying to build marketplaces on the blockchain without an established platform behind them, an experienced team among them, or an outward focus on publishers guiding them — and that's simply impossible," said JT Nguyen, CEO of Gameflip.
LEADERSHIP EXPERIENCE
Gameflip's publisher-centric model is the product of decades of combined experience in the gaming industry. Prior to founding Gameflip, the company's core team built the global games publishing business Aeria Games from the ground up, cultivating a community of 40 million gamers.
"The Gameflip team is excited to hit the ground running in this ICO. We have built out an amazing community of FLIP supporters, beyond our existing user base, that are passionate about gaming and creating a better gaming experience for everyone transacting digitally," added JT Nguyen.
Gameflip will use the ICO proceeds to extend its already successful digital goods marketplace onto the blockchain and to onboard a handful of innovative publishers in a beta period before proceeding with top global publishers. The additional capital, together with the company's existing financing from Silicon Valley VC firms, will let Gameflip quickly scale and expand its platform.
Learn more about Gameflip, its token sale and its expert team.
About Gameflip
Ijji, Inc. (doing business as "Gameflip") is a corporation based in San Jose, California, USA, and funded by Silicon Valley venture capital funds and other investors. The Gameflip management team has decades of combined experience in the gaming industry, as game developers and publishers in prior capacities, and now as digital goods marketplace operators. The Gameflip digital goods marketplace has more than 2 million registered users and 500,000 monthly actives.  
Legal Disclaimer
The FLIP token sale is only available to purchasers who are: (i) not "U.S. Persons" (as defined in Regulation S under the U.S. Securities Act of 1933, as amended) and not purchasing for the account or benefit of any U.S. Persons and (ii) eligible to purchase FLIP tokens under the applicable laws of each such purchaser's jurisdiction.