XNK – the cryptocurrency of the Ink Protocol, is designed to help tokenize P2P marketplaces. However, it is not just any peer-to-peer market they want to target. This project is the brainchild of the team behind Listia, a P2P online marketplace launched 8 years ago for "free stuff."
Not only does XNK, upon launch, become available to all the registered users of Listia (that is now north of 10 million people) but the system had already begun its own ratings and reputational system. This means that as of launch, the XNK token itself will have instant usage and credibility with a large community of Listia users.
On top of that, XNK can be used on other platforms – like CraigsList – that do not include a payment or contract layer. Here is how it works. Buyers initiate every transaction. Both sellers and buyers can use the smart contract and cryptocurrency features of Ink to make sure the goods are transferred, and if necessary, the process can be independently mediated. In turn, both buyer and seller gain additional "reputation" is not just the XNK system but the Ethereum blockchain beyond that.
We recently sat down with Gee-Hwan Chuang, the CEO of Listia and Ink Protocol to have a chat with him about the project as well as finding out his thoughts and insights.
Hi, Gee-Hwan. Thanks for joining us today. Can you tell us more about yourself and Ink?
We have built a marketplace and community with over 10M registered users
Sure, my name is Gee, and I'm the co-founder and CEO of Listia, which is a peer-to-peer marketplace for trading used goods. We are based in Santa Clara, CA. Before moving out here, I studied E.E. at Cornell University, where I first met my co-founder James.
We both moved out to Silicon Valley after school and worked in various jobs in the tech industry before starting Listia in 2009. Over the past 8 years, we have built a marketplace and community with over 10M registered users and an amazing team who has been working together building products for just as long. In the middle of last year, we decided to take everything we've learned over the years and build something that would not only help Listia grow but also be used in any peer-to-peer marketplace. So, we created Ink Protocol which is a decentralized reputation and payment system that you can use for any p2p transaction. Our goal is to build the foundation for completely decentralized marketplaces in the future, starting with Listia.
First off, why did you decide to use the blockchain in building Ink? What was your thought process behind it? Can you also describe the fascinating process of taking your existing credit system and translating that into a working cryptocurrency system?
That sounds awesome if not a lot of work.
We have always been interested in exploring the potential uses of blockchain technology in marketplaces, but also knew that it had to have a lot of utility outside of just Listia in order to be worthwhile. One simple idea could be just creating a cryptocurrency to replace Listia Credits, but there would be no real use case outside of Listia. One day, while brainstorming in our team meeting, we started talking about decentralized marketplaces and how to create a system that could also leverage the liquidity on existing marketplaces. The idea was an instant hit within the team, and after hashing it out over the next month, we came up with Ink Protocol which we think encapsulates all the difficult parts about transacting in a marketplace into a strict set of rules that can be used everywhere.
Ink Protocol can be used in any marketplace and makes it safe and easy to transact with people you don't know while earning a public reputation for every completed transaction.
Editors Pick: Ink Protocol ICO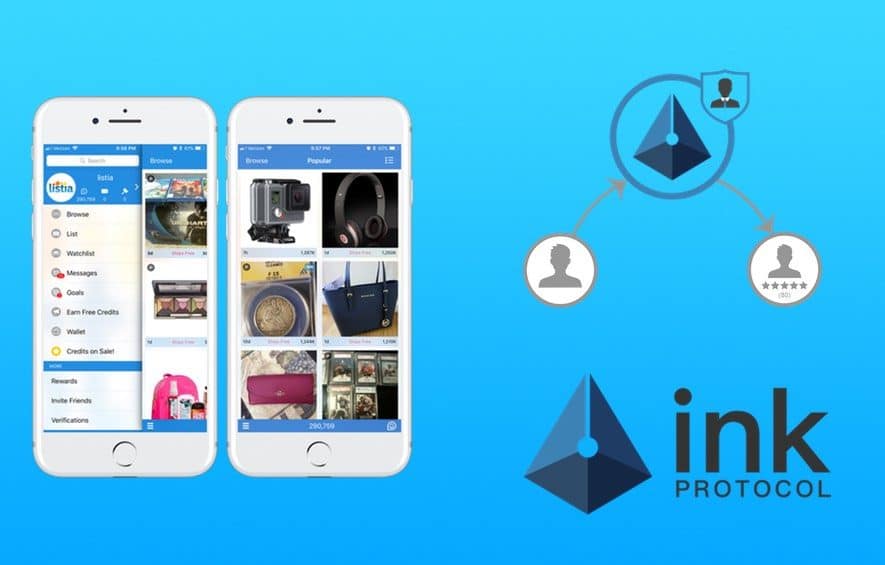 Blockchain and cryptocurrency will begin to become standard issue in P2P marketplaces of all kinds for their ability to build trustless reputations and transfer asset ownership. According to a recent article in Venturebeat , cryptocurrency in general is finally "accomplishing Paypal's original mission." And while people are not rushing out
0 comments
What do you think is the biggest problem Ink will solve and why is the problem important to solve?
The main problem we are trying to solve is shifting the power in peer-to-peer marketplace back into the hands of the buyers and sellers. Right now, centralized marketplaces own your reputation, so you can't use it to sell on other marketplaces. They use this monopoly on your data to charge high fees and lock you into their marketplace. With Ink Protocol, your reputation becomes portable across marketplaces, so you can earn and display that reputation proudly everywhere you sell.
XNK will be used as a cryptocurrency between parties – even for transactions where there is no "cash" value. How will new users begin to gain credibility in your system? Especially those who have never used Listia before?
New users will be able to start earning public reputation from their very first transaction on Listia or other marketplaces. Even if you have never used Listia or Ink Protocol before, buyers can feel safe transacting with you because of the built-in escrow and dispute resolution systems. The cryptocurrency is held within the contract until the item is delivered and received, so there is much less risk involved when dealing with a new user with no reputation yet.
In the whitepaper, you talk about frictionless transactions being facilitated by your token. But how (or why) would XNK also be an ideal replacement for more "monetized" peer-to-peer situations? Lower use fees?
XNK helps facilitate easier, faster and safer peer-to-peer transactions because it has the following features built-in:
Decentralized Reputation and Feedback – so you can see who is a trustworthy seller and who is not.
Decentralized Escrow – so you can safely pay without fear that the seller will take your money and run.
Third Party Dispute Resolution – so that you can easily deal with any issues that might happen during the transaction.
Very Low Transaction Costs – compared to traditional marketplace and banking or credit card fees.
How are you positioning yourself with regard to emerging regulation in the U.S. and other places that are increasingly putting all cryptocurrency in the realm of securities law. If you are swapping "free" stuff, how do the two square when it comes to the rules and regs? Especially even between buyers and sellers located in different U.S. states (or internationally).
Unlike many tokenized systems out there, XNK is designed to be a general purpose cryptocurrency that is tuned specifically to deal with the issues that arise in trustless peer-to-peer transactions. So, from the day it launches on Listia, you will be able to use XNK to buy things like electronics, toys, clothing, accessories, collectibles, and much more.. just like you would be able to do with other currencies.
In your system, interestingly, you allow the buyers to initiate transactions. Why do it this way around?
We felt like it is most natural for the buyer to initiate the transaction. For example, you might be shopping around on Listia and see something that catches your eye. Ideally, as a buyer, you can simply click or tap to buy the item, rather than waiting for the seller to initiate the transaction. However, we did build in an additional safeguard. Sellers need to acknowledge and accept your request to buy before the transaction is considered in-progress. This prevents buyers from maliciously affecting a seller's reputation by initiating bad transactions.
What has been your happiest moment so far working on either Listia or Ink?
One of the happiest moments I can recall while working on Listia is finding out that two of our users met on Listia and eventually got married. It's amazing to think that something you have worked hard on is making a real impact on people's lives, even if it's not what you were designing the product to do.
Tell us more about XNK. What is its function on the platform and what can token-holders expect from it in the future?
XNK is a cryptocurrency with built-in peer-to-peer marketplace features. It is used to pay for goods and services within the marketplaces, staked within the contract during escrow, and also used to pay third-party mediators for dispute resolution. XNK is required to verify the transaction before feedback can be left to the seller. Long term, we will work with other cryptocurrencies and also fiat to allow multiple payment options, while the underlying transaction will still use XNK.
Moving on to more personal stuff, what does a typical day in your life look like?
A typical day starts with lots of emails and responding to public and private messages on Telegram. After that, I like to do a full sync up with the rest of the team, to see what types of issues or upcoming decisions we need to make in order to keep things moving along. In the afternoon, I usually take a few phone calls with potential partners and advisors. Then for the rest of the day, we work on execution, which typically involves product discussion, technical work, pr and marketing work, and even some coding well into the night.
Can you express one personal opinion of yours about the blockchain? It doesn't matter if it's negative or positive, we just want to hear your thoughts on it.
I think the blockchain is a transformative technology that will power both enhancements to current products and technology as well as brand new use cases that have yet to be dreamed up. However, I also believe that we are very early in the cycle, so it's possible that many of the popular projects and cryptocurrencies will continue to go through many iterations or get replaced by new ones until they are solid. In the short term, there will be a lot of volatility and technical uncertainty including scaling issues, but long-term anything that makes sense being decentralized will be. We think reputation and marketplaces are one such application.
That concludes our Interview with Gee-Hwan Chuang
More Interviews to come
We'll be scheduling even more exclusive interviews like this in the coming weeks to delve into the minds of what makes a blockchain startup tick as well asking the questions you want to know the most.
To make sure you don't miss out on our exclusive interviews, go ahead and sign-up to our mailing list and subscribe to our social media channels.
Get in touch to let us know who you want us to interview as well as the questions you want us to ask.
You'll get notifications on the latest exclusive articles as soon as they appear on our website – we won't and will never spam you.