Traditional asset classes today are still very rigid which causes problems on the investing side of things despite advancements in technology.
For instance, you're still burdened with paperwork and intermediaries who add no value if you want to invest in today's system.
At the same time, regulations don't do much to protect the average investor, and even if they do, it restricts them from other opportunities which are a lose-lose scenario for investors.
Average investors also often find themselves stuck in situations where an attractive opportunity arises, but they can't invest as they are not accredited investors, leaving only mediocre investments as their choices.
Introducing Neufund
Neufund was developed to combat all of the problems mentioned above as well as issues inherent in the investments industry.
In a nutshell, Neufund's decentralized platform is a revolutionary way for eager investors to invest with the help of the blockchain.
It can be considered as a community-owned fundraising platform that seamlessly connects the investment and the blockchain industry, much to the benefit of investors.
Some of Neufund's core goals include:
Democratize private equity and make it available to anyone
Fully liquidize real-world private equity through the tokenization process
Create a decentralized capital pool for funding innovation.
Adopt companies and businesses to the budding crypto-economy
Provide a legal and fully-compliant environment for token creation and trading
Besides that, Neufund also has two key milestones in the process of growing the platform:
1) It wants to create a primary market for equity tokens based on three equally important parts: a fully-functional investment platform, a bustling token economy within the platform, and a diverse range of portfolio deals for investors
2) It also wants to make Neufund redundant by transforming all legal entities into fully token-holder owned "public" companies.
The basics of Neufund
With Neufund's offerings, users can issue a brand new type of asset called tokenized equities.
So, who are the actual "users" of NeuFund?

Two parties, investors, and companies play a significant part in how the platform works.
The relationship between the two is mutually beneficial; investors provide the initial capital of the platform while companies get easy access to funding as they can offer shares to interested investors in NeuFund.
In turn, investors officially become shareholders of companies in NeuFund with the use of Equity Token Offerings (ETO) which is the process of offering shares to investors in the form of tokens.
What makes the project exciting (and efficient) is the use of the EURT tokens, a type of token in NeuFund that mirrors the Euro on a 1:1 ratio. This allows capital from outside the blockchain to enter the ecosystem with ease.
The EURT banishes volatility issues common in cryptocurrencies as all investments in NeuFund are denominated in Euros, hence, making it the base currency of the platform.
Although the Euro is the official currency used, funding processes in cryptocurrencies are not neglected as ETH is supported as well on NeuFund, with parties having the freedom to choose their favored currencies during the ETO.
A dedicated capital pool called the Neufund platform allows companies to raise money for their projects; they can also raise funds from investors and any cryptocurrency holder through the platform's user-intuitive services.
Neufund understands the importance of assets management which is why they've put a lot of attention on providing a user-friendly interface for investors and companies to interact with each other in terms of dealing with shares and fundraising processes.
What happens in the case of a dispute happening in NeuFund?
Neufund recognizes the possibility of this happening, and they move forward to solve that by providing services such as:
Providing legally binding resolutions
Issuing updates and reports
The ability to launch further fundraising rounds
Enabling secondary trading of equity tokens
Performing other functions necessary to form a responsible corporate governance
How does Neufund work?
Neufund's team intelligently connects smart contracts and traditional contracts to power the platform's processes.
In Neufund, once shares are created, investors can then invest in companies much, much easier and faster than today's complicated processes.
Investments are also verified and confirmed by smart contracts which keep its records transparent on the blockchain.
Let's move on to how the investment process works in Neufund.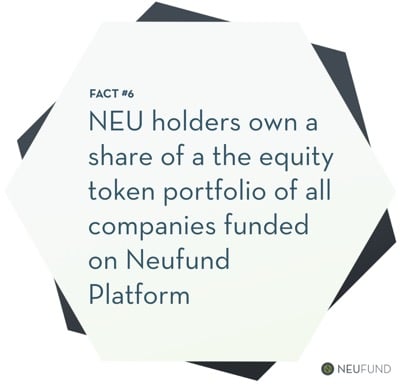 Investors' initial capital in Neufund is initially supported in the form of ETH as well as the use of EURT tokens mentioned earlier in this article.
Companies who want to raise money will then convert their shares to equity tokens; these processes make up the core of ETOs in Neufund.
Equity tokens are acquired by investors through an agreed market price or through mechanisms like a reverse Dutch auction although the latter option is determined by the ETO instead of the market.
Investors then offer ETH or EURT tokens for shares, both of which are transferred automatically to the company after the fundraising campaign is over.
Just a regular legal shareholder, investors gain access to benefits such as profit sharing and exit proceedings, two rights among a host of other rights involved in holding shares of a company.
Investors are also rewarded in the form of protocol tokens called Neumark for committing capital to Neufund.
Neumarks pose attractive benefits as they grant token-holders the rights to earn revenue from Neufund's ETO platform fees as well as token participation fees which virtually grants Neumark token holders a stake in every ETO on Neufund.
The Neufund Initial Capital​ ​Building​ ​Mechanism​ ​(ICBM)
Unlike other startups, there is no sale or ICO for Neufund. Instead, it is launching a​n Initial Capital Building Mechanism (ICBM) campaign which aims to gather capital to be invested in future companies' token offerings.
The ICBM is also a means for early investors to gain exclusive access to Neufund's full suite of services as well as enabling the investments of ETOs on the Neufund platform.
Except for the contributors, funds committed by the platform's Investment Community cannot be managed or taken away by anyone, not even Neufund so investors can rest well knowing their capital is guarded very securely.
Besides that, token-holders have up to 18 months to choose their investments. In the rare case that an investor does not intend to invest in any ETOs, they can withdraw the entirety of their balance from Neufund without any issues.
As mentioned earlier, investors are rewarded with NEU for successful commitments of capital which has the side effect of allowing token-holders​ to receive incentives and benefits from Neufund.
Here are the details of the Neufund ICBM:
Token name: NEU
Token base: Ethereum (ERC-20)
Token supply: 1,500,000,000
Token sale duration: 17th November, 2017 – 17th December, 2017
Token sale target: €200,000,000 (hard cap)