Experts estimate that more than $400 billion is lost annually by retailers and stores due to poor inventory and shelf management—a situation that is unacceptable considering the massive amounts of revenue generated by the retail industry every year.
Historically, the retail industry has always had companies—big and small—who fail to adapt quickly to technological advances in our world today. This is a waste as old inventory management tools are no longer good enough to keep up consumer demand today which translates to the massive loss suffered by businesses as mentioned in the opening paragraph.
One of the biggest problems faced by retailers is understocking and overstocking. Most retailers have no idea on the ideal amount of stock to order and place on their shelves as they don't understand the demand of their customers let alone the products they're stocking.
As a result, manufacturers push stock relentlessly to retailers which causes them to overstock, ironically, as a way to prevent understocking. You don't need to be an economics expert to know where this leads to; product wastage occurs and perfectly fine products are thrown away because the total supply is way over the demand!
Again, the latest technology can easily prevent or at least reduce these problems to a minimum. The lack of efficient technologies in place causes businesses to curb inefficiencies in their shelving and supply chain processes and with nearly half a trillion being lost each year, there needs to be a drastic change in the retail industry to accept and embrace modern tools to help the industry.
One of the best and most promising solutions to have come out so far comes from OSA DC, a renowned company ready to disrupt the industry with its blockchain-based solution.
Introducing OSA DC
OSA DC is a company that sets its sights on improving the retail industry by using its blockchain-based platform to help overcome inefficiencies in inventory and supply chain processes for retailers.
It does this with the company's proprietary OSA Hybrid Platform, an AI-powered platform that helps retail stores to maintain optimal levels of shelf availability in real-time—an impressive feature unique to the platform.
Unlike other projects, the OSA HP is already in use since 2016 with the platform generating impressive returns for large corporations and businesses like DANONE, L'Oreal and Mars.
Although businesses benefit greatly from using the platform, other parties in the industry such as data providers and even end consumers can enjoy the advantages of OSA HP as the platform provides solutions for the entire industry, not just a specific party. In fact, the biggest winners of using OSA DC's solution are the end consumers themselves so there's really no bias in the platform's approach.
Aside from overcoming the problems of overstocking and understocking, OSA DC will also be looking to improve supply chains for businesses by using the company's GPS tools to help businesses accurately track down products quickly from the moment they leave to the warehouse to the moment when it reaches the customer.
As mentioned earlier, the platform is already in use by multi-national companies across multiple regions including a partnership with 7 of the top 15 biggest retailers in Russia. This huge sign of confidence from retailers in OSA DC's solutions shows that the company is serious and confident in its ability to help reinvigorate the industry.
Leading the company to achieve its potential are fellow co-founders, Alex Isaiev, Alex Zdrilko, and Ruslan Pyshnyi, all talented individuals with tons of experience in both the retail and blockchain industries.
How does OSA DC work?
OSA DC will utilize its AI-driven services to benefit all parties involved in the industry but the scope of features provided by OSA DC is so wide that it'd be difficult to fit in all of those in a single article.
With that being said, we've highlighted some of OSA DC's best features in this article instead (the rest of OSA DC's features can be explored further in the whitepaper).
The biggest benefit retailers receive from OSA DC is the company's state-of-the-art data systems. With it, businesses have extremely accurate real-time insights on the performances of their stores and it doesn't take an expert to figure out that having accurate data leads to a lower chance of overstocking or understocking items.
Not only does the company target the supply chain, it also helps customers outside of it as OSA DC analyzes and helps customers understand product data before the products are even in stock.
To achieve this, OSA DC uses a combination of the company's image recognition tools as well as other advanced technologies like machine learning to help improve the accuracy of data generated.
An interesting thing to note about the company is that OSA DC uses a shared business model for its solution. In layman's terms, this means as more clients utilize OSA DC's solutions, the cheaper the services will be for all clients as the team takes on the costs and risks of running and implementing its solutions.
On top of that, OSA DC has a built-in mechanism to alert stores instantly whenever an event happens. This combined with the platform's in-store analytic tools that can detect issues such as damaged or erroneous items allows businesses to immediately address the concerns of their customers as soon as they pop up—a feature that will certainly benefit both businesses and end consumers.
These alerts are not only limited to in-store products; as OSA DC covers the whole supply chain, alerts can be set and monitored for products for the entirety of its supply chain cycle. Thus, businesses no longer have to worry about whether their products will arrive in time or if it's damaged or not when it does arrive as the alerts will notify customers as soon as it detects something unusual along the supply chain.
Another important aspect to mention is that while OSA DC offers a wide range of solutions to its clients, it does not aim to completely shake up the systems that clients already have in place.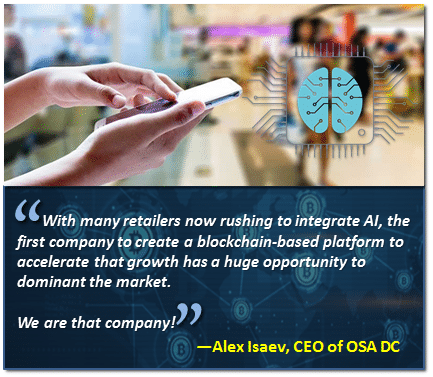 In fact, OSA DC is designed to complement various enterprise-level business intelligence (BI) solutions instead of replacing it altogether. If customers don't already have a BI solution and are not willing to fork out large amounts of money for it, OSA DC has an integrated BI tool that provides the basic functionalities needed by businesses in their daily processes.
The OSA DC token sale
OSA DC is currently holding a token sale for the OSA token which will be used to power transactions in the platform.
Here are the details of the token sale:
Token name: OSA
Token base: Ethereum
Token supply: 2,285,714,285
Token sale duration: 21st May, 2018 – 21st June, 2018 (public pre-sale) | 21st July, 2018 – 21st August 2018 (public sale)
Token sale target: $40,000,000 (hard cap)
Token exchange rate: 1 OSA = 0.0002 ETH