During our residency in Berlin this summer we got to know Moritz and Faebian from mitte®, a company developing a Smart Water Machine (the first water purifier and water vitalizer system of its kind).
Planning to launch their crowdfunding in Campaign in September, we caught up with the Co-Founders Moritz and Faebian during the recent TOA conference to discuss, why they decided to develop the product (check out the infographic below the interview), what the process has been so far and their future plans. Check it out below.
Meet the Boss – The mitte® Interview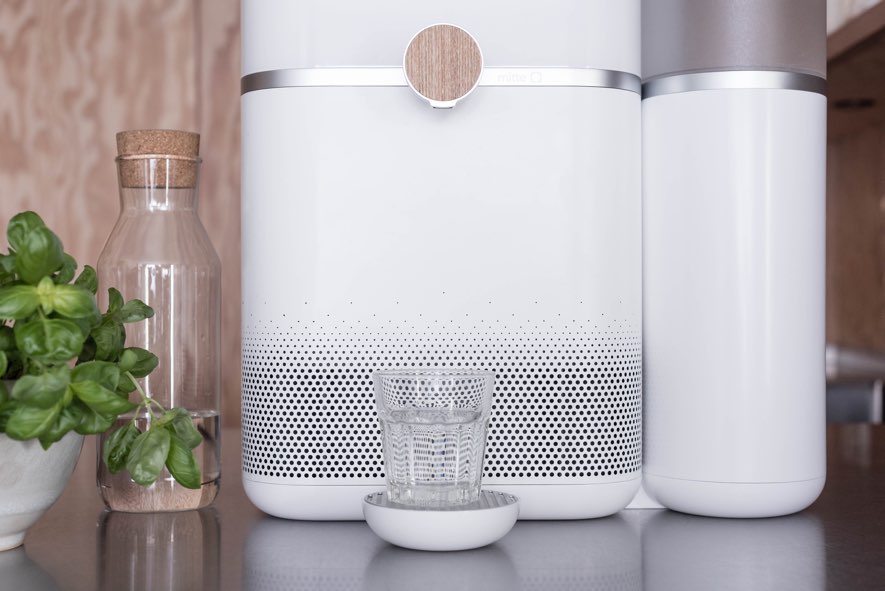 Hi Moritz, Faebian, first of all thanks for this interview. Could you please tell us about yourself and what's Project mitte®?
Moritz: Hi Daniel, thanks for having us! I'm the CEO and Co-Founder of mitte® and I focus on product development, go-to-market strategies, and delivering a viable product to the market. I have also co-founded Coffee Circle and am an advisor to Selo, a startup that creates beverages using the coffee cherry.
Faebian: I'm the CTO and Co-Founder of mitte®, where I oversee the product and technical teams. I received my Doctoral Degree in Electrical Engineering specialising in hardware development for semiconductor crystal growth, and have been building complex hardware machines ever since. I also did software development and consulting for a world leading manufacturer during that time.
mitte® is the world's first smart water system that unites water purification with enhancement, giving users personalized and healthy daily drinking water right in their homes. Our proprietary technology purifies water to an unmatched degree and enhances it with minerals to create healthy water for drinking – recreating the powerful natural water cycle in a machine.
How did you guys come up with the idea of mitte® and how did you meet?
Moritz: In late 2015, we met via mutual friends in the startup circle and bonded over a shared vision to make water better.
Tap water is becoming increasingly unsafe with threats and challenges, such as contaminated supplies, chronic pollution, and outdated regulations. Current alternatives such as drinking plastic bottled water or using water filtration systems are either unsustainable or inefficient.
We wanted to find a way to make water safe and healthy for everyone, while revolutionizing the way we drink water at home in the process. We founded mitte® on that vision.
What does a typical day in your life look like?
Moritz: My day revolves around fundraising, and speaking to potential investors and fellow startups in the industry to find out more about the market and learn from their experiences.
I'm also heavily involved in the business side of things, including market research, user testing, marketing, business development, and product development, so there are always ongoing, active discussions and decisions to be made in these areas.
Faebian: On my end, I set out the product roadmap and guide our team of engineers in the diversely broad areas concerning our solution, including the mechanics, electronics, firmware, cloud, mobile app, biology and chemistry. Currently, as we approach our product launch, we are finalizing product feature details and also identifying an OEM to work with for mass production.
We wanted to find a way to make water safe and healthy for Everyone
Can you tell us about your Journey so far and when you are hoping to start selling your product?
Moritz: It has been challenging with many learnings and a lot of growth along the way.
We have made so many rounds of iterations and improvements on the product concept, machine design, app features, positioning and messaging. In fact, every square inch of mitte® has been given its due consideration; a lot of market research, testing, prototyping, trial and error, and thought has been put into mitte®.
As we cross every hurdle and work towards building a product that users need and love, going through this process with our skilled and passionate team has made it an even more enriching and fulfilling experience.
We are tremendously excited to launch mitte® via our Kickstarter campaign in September.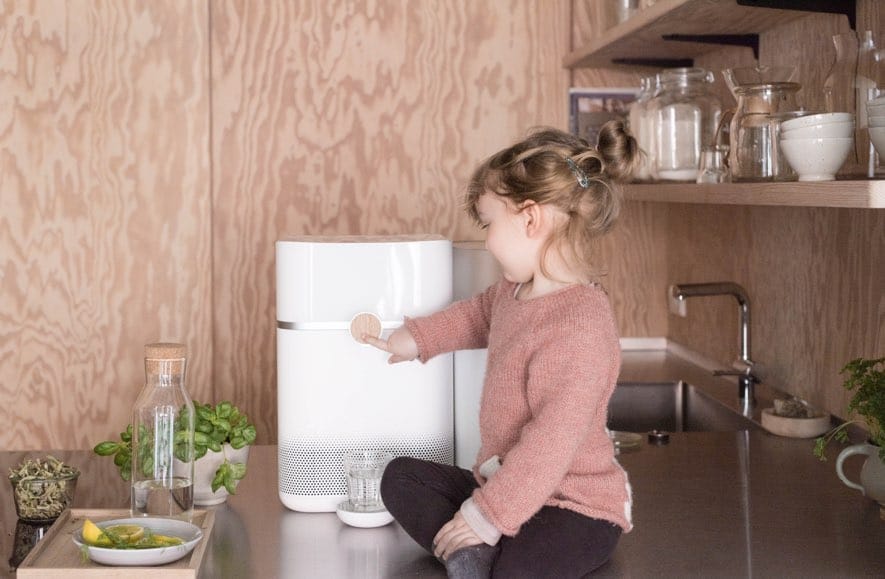 You've mentioned Crowdfunding. How important is it for a new start-up like yourself?
Faebian: For mitte®, we view crowdfunding as a great opportunity to reach, interact, and gather insights from fellow innovators and early adopters in the community. This goes towards product validation while helping us to improve our mitte® further down the line.
We also see this as a way to achieve successful fundraising in the near future. With our solution and market potential validated by a community of backers, potential investors will be more convinced to come onboard.
Most people – at least in markets such as Germany – assume that tap water is safe for drinking, so what is your approach to convince them of the need to use mitte®?
Moritz: Water, as essential to life as the air we breathe, has largely been overlooked or taken for granted by most people. It is important to know what is in our daily drinking water, and to be aware of the potential risks involved by drinking from the tap.
In most places of the world, tap water is actually not safe to drink – this includes many states in the United States and other dense urban areas such as Shanghai, Rio, and the Emirates.
When talking about tap water for the region of Germany, Austria and Switzerland, certain factors also have to be considered.
Faebian: For instance, before tap water is delivered to our houses, the public water system treats it in an effort to remove chemicals, particles, and bacteria. However, they do not always succeed as contaminants such as pharmaceuticals, BPAs, and hormones are particularly hard to eliminate.
In most places of the world, tap water is actually not safe to drink
In addition, the municipal water is only guaranteed until the point of entry to our homes, so there are still opportunities for drinking water to be contaminated despite regulations. If the pipes in the building are contaminated or made of lead, for example, the water that was previously clean will be contaminated again.
Through pointers such as the above on our FAQ page, and also journal articles like "Tap water: Do you know what's in your drinking water?", our approach consists of educating and raising awareness, and providing a solution so users can take the quality of their drinking water into their own hands.
How do you avoid your plan from backfiring? For example, instead of drinking tap water, people might turn to buying water in plastic bottles instead?
Faebian: mitte® is a holistic solution that is a combination of several factors: technology, usability, social impact, sustainability, and aesthetics – and these come through on our solution, all our touch points and communications.
For instance, we worked with The Plastic Bank to create this content piece "The plastic revolution: Monetizing plastic waste" for our readers.
The industry that we are operating in does not just concern water purification and enhancement, but also how, through what means, and where we get clean and healthy water. The process is as important as the results. We do not simply want to curb the symptoms, but also to get to the root of the problem and solve issues at that level.
Besides educating users on what healthy water is, we also stand for selling a product that does not compromise the environment. mitte® may seem costly in the short term, but is more cost effective (both for our user's wallets and the environment) in the long run.
You are based in Berlin, which has a thriving start-up scene. How is the city influencing your business?
Moritz: Berlin's dynamic and robust startup scene has benefited us in many ways. There is an expansive network and community of investors, fellow startups, media, and external partners for us to tap into. The guidance and collaboration with these parties have contributed to our learning and growth.
We have, and will continue to participate in many startup events such as TOA Berlin and IFA NEXT to increase exposure and in-person interaction with potential users.
The thriving startup scene here has also helped us attract many team members from all around the world. In fact, we have 15 people on our team, coming from 12 countries and 6 continents. Most of us moved to Berlin for mitte®, but also for the city itself.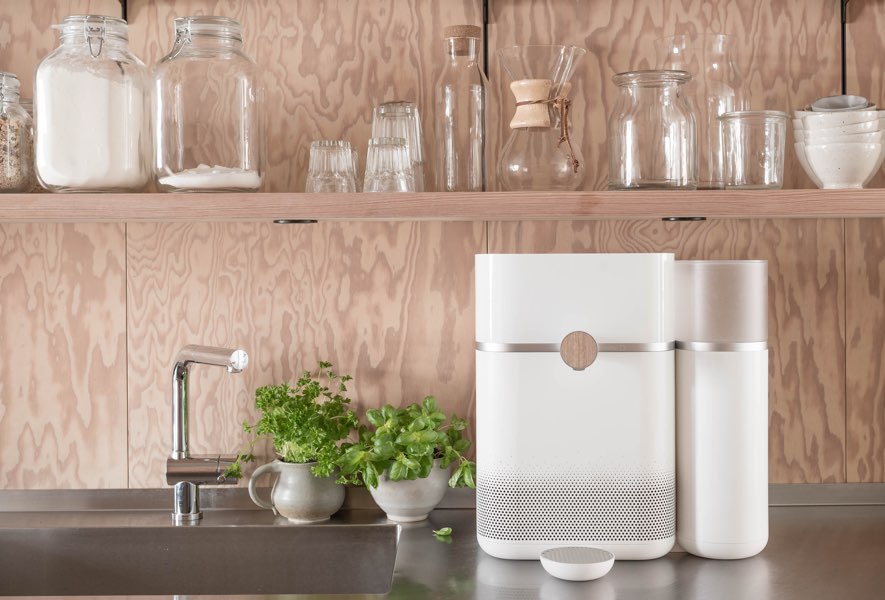 Where do you see your company or your company's focus in 1-2 years?
Faebian: In 2 years' time, we foresee growth in terms of market reach and product development. We would also be some steps closer to our big vision of "improving life with better water" for as many people as possible.
We think that our logic of purification, personalization and connectivity has a large array of potential uses. mitte® will enter new markets like emerging countries on a lower cost model, and the product ecosystem will be expanded to include single use, personalized pods for specific use cases.
We'd also like to build out the current mitte® and increase its capacity for B2B sales to offices and maybe entire buildings.
Moritz, Faebian. Thank you for the Interview and good luck with your crowdfunding campaign.
Additionally to the interview we asked mitte® to provide us some further insight on the quality of tap water.
Is Tap Water Safe to Drink?
You've probably heard scare stories and rumors, but do you really know what's in your tap water?
Based on this report, you have reason to be concerned.
The Environmental Working Group's analysis of nearly 20 million drinking water tests conducted by water suppliers in the US between 2004 and 2009 detected 316 pollutants in US tap water.
For most, the government has set no safety-based legal limits. Many other contaminants were found in drinking water at concentrations above government-issued advisory health guidelines.
In this infographic, we'll look at the kinds of contaminants that are most often found in tap water, showing how purification processes greatly improve the quality of your water.
Infographic: Do you know what's in your drinking water?
Conclusion
You can protect yourself by converting tap water into clean, healthy water with a water purification device. There are many types of water purifiers available, including systems that filter, distill, or disinfect water to remove contaminants.
Plastic water filter pitchers are perhaps the most common form of water purification device in the home. Unfortunately, they are often ineffective and use wasteful plastic filters. They only remove a small number of contaminants and often lead people to mistakenly believe the water they are drinking is safe.
We're developing the mitte® distillation and enhancement system to combat the dangers of tap water and transcend the limits of traditional household water filters. Our water purifier vaporizes incoming water and removes any contaminants it contains filters. It produces water in its purest form, free of any dangerous contaminants. On top of that, our system mineralizes the pure water with essential minerals so it becomes healthy for daily consumption.
You can learn more about mitte® here.